Tidal Premium vs HiFi vs Master: Difference between Tidal Subscriptions
Date: 2021-09-08 08:41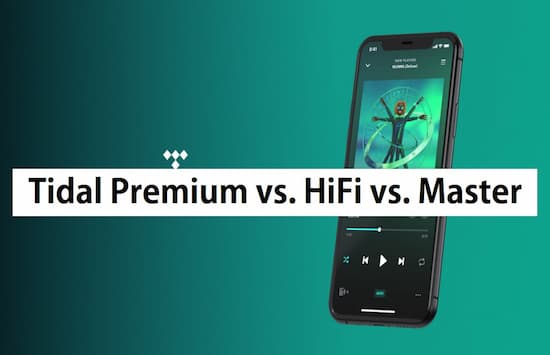 The TIDAL owns three major different subscriptions: including Tidal Premium, HIFI and Master. Each Subscription will cost different price and have different benefits and privilege.
Part 1. Tidal Premium vs HiFi vs Master: Sound Quality
When it comes to sound quality, the standard audio quality of Tidal Premium is 320kbps, which's maximum. While the least is 160kbps, if you wish to choose the normal audio quality, you can very well do so. The normal audio quality is good for those users who have slower internet connections.
But when it comes to Tidal HiFi, the sound quality gets better. You get to enjoy the lossless high-fidelity sound quality. It offers 44.1 kHz/16 bits as its superior lossless sound quality. If you are an audiophile or you want better sound quality, the best choice would be Tidal HiFi.
There is another subscription for Tidal, which is known as Tidal Masters. Masters sound quality is better than both Premium and HiFi. The sound quality you will get with Masters is 96 kHz/24 bits.
Part 2. Tidal Premium vs HiFi vs Master: Price
To access Tidal Master utility on Tidal Music, you only need to be a HiFi subscriber. With HiFi subscription, you can double down and listen to audio quality that sets Tidal apart from any other music streaming services.
As with any tidal plan, there is no free plan. But Tidal Premium comes with a 30-days free trial. The tier costs $9.9 a month. Family premium goes for $14.99 a month including up to 5 additional family members. The student premium goes for $4.99 a month. The military premium goes for $5. 99 a month.
Now, this is the selling point of Tidal. This is what makes Tidal different in the world of music streaming world. And this is the sweet spot of Tidal. So let's start with how much it takes to get access to this tier. This is one of the most expensive tiers you'll find for a streaming service. But it presents the most sophisticated streaming options you'll find nowhere else. No matter your level, you'll comfortably fit somewhere. The HiFi tier goes for $19.99 a month. HiFi family goes for $29.99 a month. HiFi student goes for $9.99 a month. Military HiFi goes for $11.99.
You maybe think twice before buying Tidal Subscriptions due to the price, but now you can get Tidal Subscriptions with lowest price at Z2U.com. Here, you can find Cheap TIDAL HiFi Account, TIDAL Premium Account for Sale, enjoy fast and instant delivery!