Genshin Impact Beginner's Guide - How Characters Work In Genshin Impact?
Date: 2020-10-12 09:20
Genshin Impact is a free-to-play action role-playing game developed and published by miHoYo. The game features a fantasy-based open world with gacha game mechanics. It was released for Microsoft Windows, PlayStation 4, Android and iOS on September 28, 2020. Players can control up to four of their characters at any one time. By completing quests to advance the story, the player is able to unlock a total of 24 playable characters. A similarly styled multiplayer mode is available. This guide will tell you something about Characters .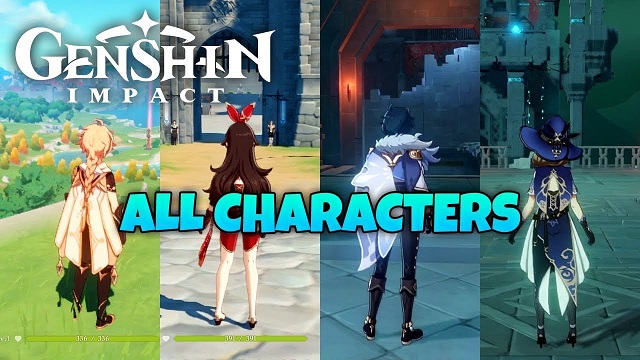 How Characters Work in Genshin Impact
Once starting the game, you will choose between one of the two Travelers and give them a name - but this is not the only character you'll be able to play as in Genshin Impact. One of the main features of this game is the ability to form a party of 4 characters, and swap between them rapidly to perform elemental combo attacks or utilize their particular strengths in a fight.
Each character will have a basic attack, a stronger charge up attack, an Elemental Skill, and an Elemental Burst. They can also wield a sword, 2-handed claymore, bow, or a magic catalyst. With over 20 Characters already in the game, you'll find many different combinations of weapons and elements, allowing you to mix and match a team to cater to your style - if you can obtain the right characters that is.
Simply by playing the story, you'll unlock 3 additional characters to fill out your party of 4 - but as each Character comes with an innate weapon and elemental type, you won't be able to utilize each type without claiming additional characters. You'll unlock this ability once you reach Adventurer Rank 5 during the game's tutorial, as well as the ability to purchase microtransactions.
Wishing for Characters
In order to get more characters, you'll need to use the power of Wishes for the chance to summon rare Characters - but doing so will cost your a specific type of hard to find currency. As is the case with many Gacha type games, you will be able to choose between several themed event wishes and expend either Acquainted Fates or Intertwined Fates to "roll" for a reward - which will either summon a weapon or a character. Both have different rarity types, and the more rare a Character is, the less chance you'll get one on a given roll.
Luckily, certain systems are in effect to make sure you won't be unlucky forever, as saving up Fates to roll in quantities of 10 in most events will guarantee at least on 4-star Character. Additionally, the longer you roll and do not get a 4 or 5-star Character, the better your chances will approve until you finally do get lucky. Be sure to look at the details of each Wish Event to see what the probabilities are listed at, and who you might be able to summon. If you are awarded a character you already have in your group, you'll be instead given extra resources and currency that can be traded in for rare valuables - so that nothing truly goes to waste.
So,from the above, we know that if you want to get more characters, you can use Genshin Impact currency to help you. Genshin Impact Accounts that full of primogem & crystals Hot Sale at z2u.com, with cheapest price, fastest delivery, and safest transaction. 24/7 customer online service and support are available to all customers. We, z2u.com, are a professional online game store which aims to offering game services, such as game consulting, game coins, and etc. If you have any doubt, please contact us at any time you like. Welcome!