Grinding Gear Games is Bringing the 'Path of Exile' to Mobile
Date: 2019-11-21 08:34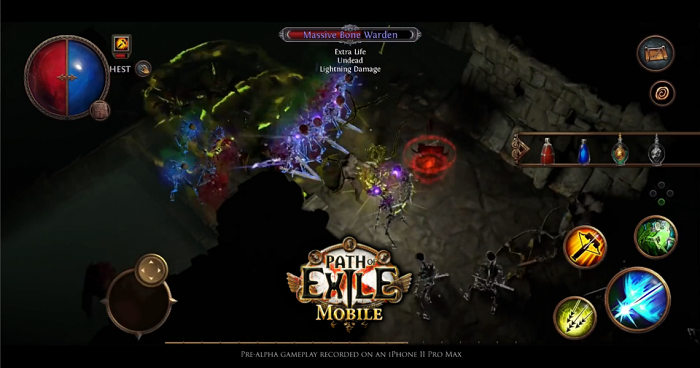 Over the weekend, Path of Exile developer Grinding Gear Games also hosted ExileCon 2019. At the event, the official officially announced the Path of Exile 2 and the mobile version of Path of Exile Mobile will be released. This game is very good in inheriting the essence of "Diablo 2" and has been liked by many players.
The intro by Grinding Gear Games co-founder Jonathan Rogers indicates that Path of Exile Mobile will be free from annoying mobile game tropes such as microtransactions, time gates, video ads, notifications, and a pay-to-win structure, all things they bluntly refer to as "evil garbage". More importantly, the game is being developed in-house by the same team that worked on the first Path of Exile game and its successor, Path of Exile 2, which was also announced last week.
The announcement trailer above is definitely worth a watch. Not only does it open with the acknowledgment of mobile gaming's issues with microtransactions, time gates, and energy bars, the dev has made it clear that there will be zero compromises when compared to the wildly successful PC version. Of course, changes to the core game are still expected, such as streamlined levels for shorter sessions, though it appears all the depth of the original will be retained. There's also a sly dig at Blizzard in the mix, where the dev mentions that Path of Exile Mobile will be developed in-house, and an important aspect considering that the studio managed to remain independent even after being acquired by the Chinese giant Tencent.
The original Path of Exile came out back in 2013. Many Diablo fans saw it as an alternative to Diablo III, a game that some felt strayed too far from Diablo II's formula. Not much is known about Path of Exile Mobile yet, but if you've played the PC version, then you know what to expect, a state-of-the-art action RPG focusing on loot and character builds, and an overarching story that will keep you engaged across ten acts.
"Mobile games are kind of bullsh**, right?" Rogers cut to the quick in his introduction of Path of Exile Mobile. "Pay-to-win microtransactions, time gates, energy bars, random nag screens, notifications, video ads… there's really a lot of evil garbage going on with mobile games today, but in 2012 when we first released Path of Exile on PC, you really could have said the same thing about a lot of free-to-play games there too. Back then, we really felt like we could do free-to-play on PC without all of that player-hostile stuff. So we thought, 'you know, maybe we can do the same thing for mobile.'"
When introducing Path of Exile Mobile, Chris Wilson said that players don't have to worry about the quality of Path of Exile Mobile games, because this mobile game is also developed by GGG themselves, and not someone else. For more information of Path of Exile, you can pay attention to Z2U.com, and if you want to Buy Cheap Path of Exile Items, you can also come to Z2U.com for help.