Honkai Star Rail Huohuo Character Guide: How to Build the Best Huohuo in 1.5 Version
Date: 2023-11-16 09:19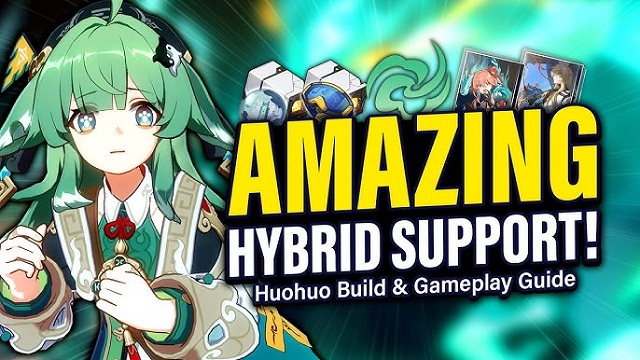 With the update of Honkai Star Rail 1.5 version, there are new storylines and characters added in the game. Players have access to experience new quests and characters in 1.5 version. Huohuo is a 5-star playable character in Honkai Star Rail. They want to know how to build the best Huohuo character in Honkai Star Rail 1.5 version. Players can use Cheap Honkai Star Rail Oneiric Shards to unlock good character for your team in the 1.5 version banner activity. 
Huohuo Character in Honkai Star Rail 1.5 Version
HuoHuo is expected to stand out in Honkai Star Rail as a distinctive character, wielding the Wind-type element within the Abundance Path. As a limited 5-star character accessible through the Character Event Warp in version 1.5, HuoHuo's playstyle revolves around versatile support, excelling in AoE healing, crowd control debuffs, and providing impactful ATK buffs to enhance team performance.
How to Build the Best Huohuo Character in Honkai Star Rail 1.5 Version
Huohuo is a support character, following the path of Abundance. She offers healing and energy regeneration to her teammates and can deal some wind damage, too, but she's primarily a healer.
Best Light Cones for Huohuo in Honkai Star Rail 1.5 Version
Night of Fright: Increases the wearer's Energy Regeneration Rate by 20%. When any ally uses their Ultimate, the wearer restores HP for the ally currently with the lowest HP percentage by an amount equal to 14% of the healed ally's Max HP. When the wearer provides healing for an ally, increases the healed ally's ATK by 4%. This effect can stack up to 5 times and lasts for 2 turn(s).
This is Huohuo's signature Light Cone, and her best in slot thanks to how it complements her kit. For starters, the increased Energy Regeneration rate allows her to use her Ultimate more often, which means more Energy and ATK buffs for her team. Additionally, it adds even more healing to her kit, as her Ultimate now also heals the member with the lowest HP, as well as increases the ATK buff her Ultimate deals.
Warmth Shortens Cold Nights: Increases the wearer's Max HP by 32%. When using Basic ATK or Skill, restores all allies' HP by an amount equal to 4% of their respective Max HP.
This is a decent 4-star Lightcone for Huohuo as it works towards improving her healing in two ways. First, the increase in the wearer's Max HP will improve the healing her Skill does. Then, it improves her Skill's healing by extending more healing to her entire team. This helps Huohuo become a focused healer.
Best Relics Set for Huohuo in Honkai Star Rail 1.5 Version
When searching for the best Relic sets for Huohuo in Honkai: Star Rail, you have two great options so far. The first of them is the healer-focused Passerby of Wandering Cloud. By equipping two pieces of the set, the user's Outgoing Healing is boosted by 10%. If all four pieces are equipped, the user will regenerate 1 Skill Point at the start of the battle. This can make Huohuo's healing more effective, even if it does not actually boost her Max HP, the stat off which her abilities scale. This should only be used, however, if you are lacking healing and need to supplement HP restoration.
If Huohuo's healing is satisfying with her Light Cone and enough good stats, you can use the Messenger Traversing Hackerspace set. With two pieces, this Relic set grants the user a 6% boost to SPD. If all four pieces are equipped, when the wearer uses their Ultimate on an ally, SPD for all allies increases by 12% for 1 turn. This set goes well with Huohuo's secondary support abilities. Since she grants buffs to allies via her Ultimate, they would have their SPD boosted in addition to their ATK – and a SPD-based DPS like Seele in Honkai: Star Rail could benefit from the SPD bonus significantly.
Best Team Comps for Huohuo in Honkai Star Rail 1.5 Version
Dan Heng • Imbibitor Lunae - DPS
Dan Heng IL is a Main DPS character in the team. Dan Heng IL mainly deals DMG with his basic attack. Dan Heng IL's skill can enhance his basic attack.
Bronya - Support
Bronya has the ability to increase ATK% for all team members, and her skill allows other teammates to gain turns and DMG increase, making her team more agile to make the next attack or restore HP.
Tingyun - Support
Tingyun is a support character who can increase the ATK of her allies. Her ultimate skill regenerates 50 Energy for a target ally and increases their DMG.
Huohuo - Healer
Huohuo is a Healer and Support in the team. Her Ultimate Skill can Regenerates Energy for all allies and increases their ATK%.
If you have got Huohuo character in Honkai Star Rail 1.5 version, you can consider this guidance to build the best Huohuo in the game. You can also Buy Honkai Star Rail Stellar Jade to unlock the best weapons and items for Huohuo in the game shop.