How to get Ladder in Animal Crossing Nintendo Switch
Date: 2020-04-10 08:48
In Animal Crossing, you can use ladder to climb cliffs. Players always search on Google:"Where can I get a ladder in Animal Crossing?" Today, there is a welfare for you, you can find the answer on how to get a ladder.
How To Use The Ladder
Like most tools in Animal Crossing: New Horizons, the ladder can be equipped from either your inventory pockets or your tool wheel, if you have it. Then, just run up to any cliff (whether you're scaling it or want to climb down) and press A to use it.
Wait for Tom Nook to offer you a bridge construction kit
To get the Ladder, you must progress through Tom Nook's tasks of paying off your tent payment and building your home, building Nook's Cranny, and then a bridge to start work on the three villager homes that need furnishing. After placing the lots down, Tom Nook will inform you that one recipe will require use of the flowers atop the island's peaks, and will give you the recipe to make a Ladder. The Ladder is a tool that will allow you to climb or lower yourself to different elevations on the island without having to use a ramp or incline. Thankfully, just like the Vaulting Pole - it won't break!
Before any of these fresh faces can move to your island though, Tom Nook will need to give you the green light. You'll know that the process is starting when he offers you the recipe for a bridge construction kit. You'll need to gather the resources to actually build it - four log stakes, four bits of clay, and four stone lumps - and when you've done that you can pick a spot to open up the island. That will give you more space to put down the holding lots for your new residents.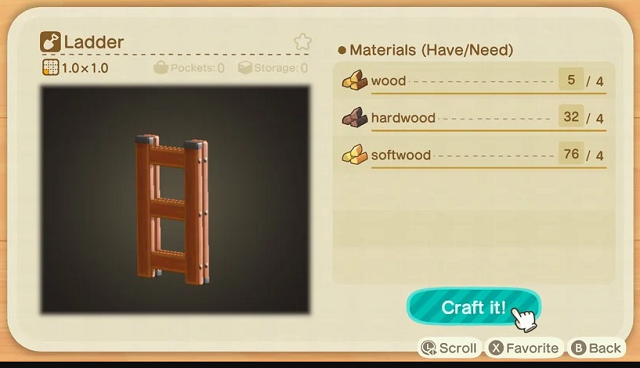 Crafting a Ladder
After all that running around, the only thing left for you to do is to craft the ladder. Head back to a workbench and supply four wood, four hardwood, and four softwood to build this handy tool. Your character will automatically place the ladder on the ground and begin climbing. Now it's finally time to reach all those flowers, bodies of water, fish, and bugs that have been taunting you from the start of the game.
You now have known the tips to get or craft a ladder, if you find it difficult, you can also choose to buy cheap Animal Crossing Items via Z2U.com, cheap, safe, fast & huge stock.