Madden 23 Team Guide: Best Team to Use in Madden 23 Franchise Mode
Date: 2022-10-08 08:44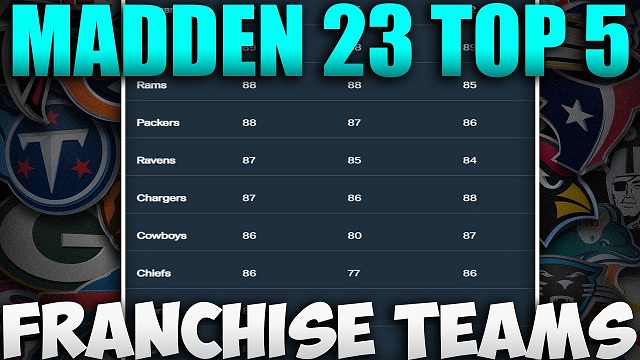 If you want to play well in Madden 23 Franchise Mode, it is important for you to choose a good team in the beginning. If you want to win the champion of NFL League in Franchise mode, you have better select the team wisely. We will recommend some good teams for you if you have no idea about the choices of teams in Madden 23. Players can use MUT 23 Coins to purchase good equipment or items to level up team in Madden 23 Franchise Mode.
Los Angeles Chargers (OVR 87 DEF 86 OFF 88)
The Chargers are the top Madden 23 team to use in Franchise mode. They have a young team and star players at every important position in Madden.
Justin Herbert is everything you would want in a Madden quarterback. Young, mobile, strong armed, and accurate with good superstar abilities. Austin Ekeler is a dangerous Madden running back, and the receivers make up for their lack of speed with their superstar abilities.
The defense is really what makes the Chargers stand out though. Pass rush is more important than ever in Madden 23 and the Chargers have 2 of the very best in Joey Bosa and Khalil Mack.
SS Derwin James is one of the best safeties in Madden 23 and still very young. J.C. Jackson, Bryce Callahan, and Asante Samuel Jr. form one of the best cornerback trios in Madden 23. 
Buffalo Bills (OVR 89 DEF 88 OFF 89)
The Bills enter the 2022 season with a ton of hype, and Madden 23 isn't doing anything to stand in the way of the excitement. Buffalo holds the highest overall in the AFC, a conference that became much improved over the offseason.
The Bills, who boast the second-best offense and the best defense (tied with the Los Angeles Rams) feature six 90+ overall players and 16 players in the 80+ overall range. While the AFC East appears to be a division full of talent, the Bills are firmly in the driver's seat with a strong core and a franchise quarterback in Josh Allen (92 OVR).
Tampa Bay Buccaneers (OVR 92 DEF 85 OFF 92)
Tom Brady-led teams are best known for being well-oiled machines. His robotic work effort and age-less body trickle down to every position group, young and old. That routine was put at risk this offseason as Brady retired, and then un-retired shortly after. The Bucs are back at it though and have one of the best teams in Madden NFL 23.
With Brady (97 OVR) at the helm throwing to receivers Chris Godwin (89 OVR) and Mike Evans (92 OVR), the offense will be electric and give you the keys needed to unlock dominance against the CPU. The defense is led by Vita Vea (93 OVR) and Lavonte David (92 OVR), both of whom will stop the opponent's run game with ease and turn great teams one-dimensional.
Green Bay Packers (88 OVR DEF 87 OFF 86)
The big headline for the Packers entering the season is the loss of Devante Adams, who decided to regroup with his best friend Derek Carr in Las Vegas. But the Packers remain a top-flight team in Madden 23 thanks to who they didn't lose: Aaron Rodgers. The veteran QB has yet to show his age, winning two consecutive MVP awards and still making his surrounding talent better every season. In Madden 23, players may be wary of his lack of pass catchers, but he's got one of Madden 23's best running backs in Aaron Jones to help keep defenses guessing, not to mention the shutdown corner Jaire Alexander on the other side.
You can choose one of these good teams to start your journey in Madden 23 Franchise mode, at the same time, you can Buy Madden 23 Coins to upgrade your team in time in order to keep competitive in the long process of NFL League matches.