Madden NFL 23: How to Get 99 Overall Rating Fast in Face of the Franchise Mode
Date: 2022-09-02 08:38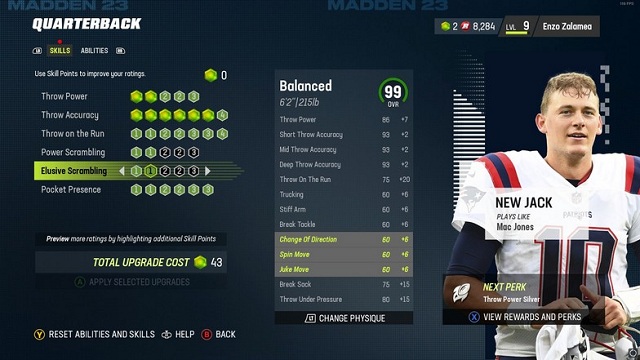 Madden NFL 23 has totally changed the way to play Face of the Franchise. Players begin as a fifth-year free agent who looks to reinvent their career in a new team. The aim is to become the best player in the team and win more champions in the long NFL season. So, you have to improve player's overall rating and push them to 99 rating in the end. If you want to know the way to complete the goal, you can read this article for the guidance. Players can use Cheap Madden 23 Coins to purchase good items for building your team in Face of the Franchise mode.
How to Reach 99 Overall Rating in Madden 23 Face of the Franchise Mode
Getting into the 99-rated club is a dream for every Madden fan and player alike. The best way to Increase your overall rating in Madden 23 is by earning Skill Points which can be then further allocated to enhance your attributes.
When leveling up a skill or attribute, make sure to not focus on the order in which you level them up. Instead try to focus on the attributes that will improve your playstyle because even if you equally level up multiple skills, your overall rating will increase at the same rate as leveling up a skill individually.
How to Level up Fast For Earning Skill Points in Madden 23
Complete More Madden 23 Daily Missions
While in the Season Pass, make sure you complete your Daily Missions every day. These will be your source of constant XP even on days when you can't farm XP from anywhere else. Additionally, the objectives are quite simple and can be completed within a few minutes. Not a bad ROI when you farm XP from Madden 23 Daily Objectives.
Apart from that, you get an insane amount of XP if you complete Daily Objectives for a set amount of day. You can toggle to the Stats section in the Season Pass and then head to Daily Tracker to check the same. This is one of the best ways to level up fast in Madden 23.
Get More Rep Through Side Activities
Side activities are a great way to get Rep during your off days, particularly, training sessions. Completing a training session will earn you one of three different medals; Bronze (25 Rep), Silver (50 Rep) and Gold (100 Rep). The best part is that you don't even have to participate in the training session either. You can just simulate it, and automatically get the bronze medal reward.
Complete Relevant Challenges
As you start the play, you'll receive certain challenges to complete that grant you exclusive Rep depending upon the difficulty of the event. There are three difficulties in these challenges: on Easy you get 25 Rep, Medium rewards you with 50 Rep while Gold gives you 100 Rep in total.
The best way to initialize these challenges is when you change sides during the game as this will allow you to select what challenge to complete. You'll get up to four challenges to complete throughout the game excluding the first play and will grant you up to 1000 Rep per game, making this one of the best ways to farm Rep in the Face of the Franchise mode.
In order to reach 99 Overall Rating in Madden NFL 23, players need spend more time playing and find the fast way to earn more skill points for leveling up their characters. If you want to unlock good equipment for players, you can Buy Madden 23 Coins to select the suitable ones for them. Their capacities will be enhanced with the help of nice equipment.