What is the Fastest Way to Get VIP Points in 8BP: How to Earn More 8BP VIP Points
Date: 2020-08-04 08:45
Do you want to know how to get 8BP VIP Points? What is the best way to make VIP Points in 8 Ball Pool? If you want to find the answer, then just follow this short article!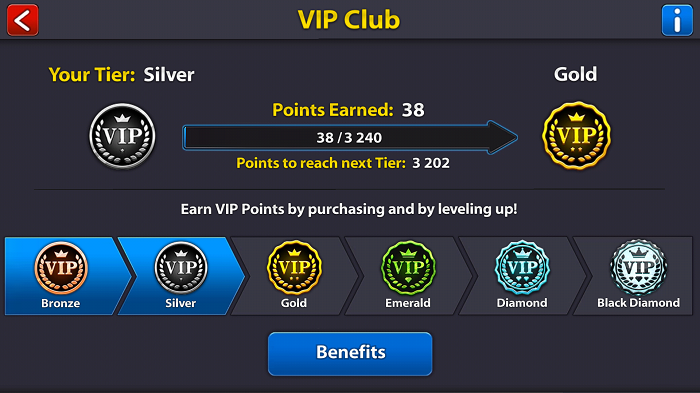 How to get VIP Points?
The VIP Club has six tiers: bronze, silver, gold, emerald, diamond and black diamond. A new 8 Ball Pool player will start at the bronze tier. You'll earn points every time you level up, or purchase coins or cash, and once you've earned enough points, you'll move up to the next tier. A number of things get boosted by levelling up in the VIP Club. At the bronze tier, everything is the same as normal, but once you reach silver and onwards, all these elements get increasingly multiplied. So, for example, at the silver tier, your coin purchases are multipled by 1.25. Reach black diamond and they are multiplied by a huge 5 times!
Boost: XP boost is a very attractive thing on the higher levels. The higher the VIP club level the higher experience points the person receives after completing any mission. There are people who can have a lot of experience points by passing a simple level while on the other hand, the beginners will only receive the basic amount of XP points. XP boost helps a player win more points and turns the level up faster.
Daily Spins:In the higher levels the player will get more spins every day. To be exact it is 2 instead of one. Also, these coins are multiplied by the tier coin multiplying system.
There are several levels according to the number of points you have:
BRONZE: up to 239
SILVER: up to 3.239
GOLD: up to 14.999
EMERALD: up to 134.999
DIAMOND: up to 869.000
BLACK DIAMOND: 870.000 – beyond
The last but not at the least, you can Buy Cheap 8 Ball Pool VIP Points at Z2U.com, cheapest price, safe and fast delivery, no hack and no bots will happen! Shop now!