Where To Buy Google Play Gift Cards And How To Redeem Them
Date: 2022-07-08 08:45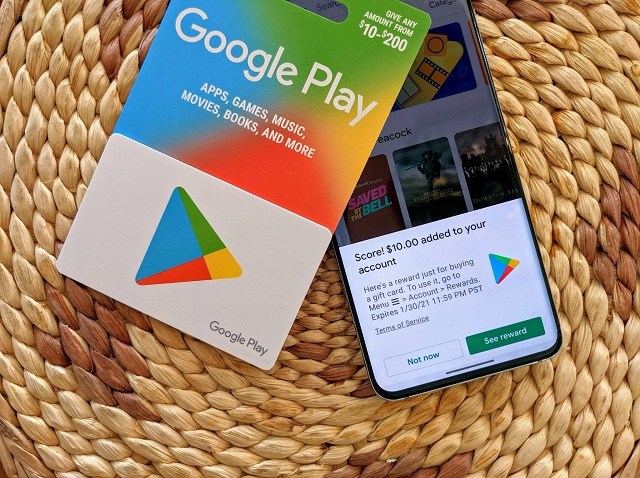 The Google Play Store has tons of content for all customers, not just Android users. Movies, TV shows, books, and more can be found in the Play Store. Gift cards from the Google Play Store are great gifts for anyone. So where to buy and how to redeem? Read our guide to find out. In short, you can use your Google Play Gift Card balance to purchase and subscribe to content and services on Google Play.
Where can I buy Google Play gift cards?
Like many gift cards, Google Play Store gift cards can be found in many easily accessible places. They also come in two different forms: physical and digital. If you want to buy a physical card to give to someone in person, you can find them at your local chain. Since the Google Play Store is the digital marketplace of choice for many Android users, grocery stores often have them in a dedicated section. You may find physical gift cards in:
Walmart
Walgreens
CVS Pharmacy
Target
Dollar General
If you're looking for digital Google Play gift cards, many online retailers will sell them. When you purchase the digital version, you will be asked for your email. This email will receive a code redeemable in the Google Play Store. You can buy on the z2u.com online site, all sellers on z2u.com need to verify their ID, a verified ID protects buyers who want to buy Google Play Cards safely. Buyers can also purchase google play card activation codes with hundreds of secure transaction methods such as Apple Pay, PayPay, Bitcoin, Google Pay, etc.
How do I redeem a Google Play gift card?
Whether the gift card is a physical or digital card, it is very easy to use. You can redeem its value in several ways: via Android or on the web.
Redeem online
In order to use your Google Play gift card, you'll need a code. If it's a physical card, just scratch the grey bar on the back to reveal the gift code. Once you get the code, you can redeem your gift card in the following ways:
1. Go to play.google.com/redeem in your browser.
2. A window will pop up asking for your gift code. Enter this code.
Note: If you know that you are already signed in to your Google Account in the Google Play Store on the web, you can now enter the code. If you're not sure, click Cancel and see your profile picture or a button that says "Sign in" in the upper right corner of the screen. Be sure to sign in with the Google Account you want to apply your balance to.
3. Enter the code and click Redeem.
The value of the gift should automatically be added to your Google Play balance. You can check your balance by clicking Payment Methods on the left menu and looking at the top method, which should say Google Play balance.
Redeem on Android
On Android, an easy way to redeem gift cards is through the Google Play Store. Here's how to do it:
1. Go to the Google Play Store app on your Android device.
2. Tap your profile picture in the upper right corner of the screen.
3. Tap Payments & Subscriptions in the menu that appears.
4. Find and tap Redeem Gift Code.
5. Enter the code on the Google Play gift card you received.
No matter who you buy Google Play gift cards for, there are many places to buy them and many ways to use them. You can register as a seller on z2u.com and log into your Google Gift Card account. Listing your product is completely free, just redeem the code by selling Google Play Gift Card at z2u.com, z2u.com takes full responsibility for the entire sales process within the marketplace and provides full payment protection services for free.