FIFA 22 How to get Loyalty Fast and Quick, Easiest Way to get FUT 22 Loyalty
Date: 2021-10-13 08:44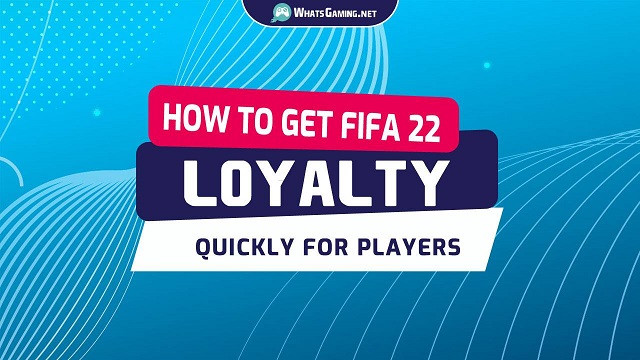 How many games to get loyalty FIFA 22? What is the easiest way to get loyalty FIFA 21? How do you get loyalty fast on FIFA 22? Here are three questions related to loyalty that players want to find answer on Google. Today, you can find the answer just refer to this article!
How many games to get loyalty FIFA 22?
What is the Loyalty Glitch in FIFA 22? Especially when it comes to Squad Building Challenges (SBCs), the loyalty glitch is your way to go. You probably know how loyalty works anyway, so let's keep it short: once a player has completed 10 games in Ultimate Team, he will receive the loyalty trait.
What is Loyalty?
Every player that has loyalty gets an extra one chemistry, allowing you to get 10 chemistry from just two orange links (e.g. on your left or right back in a 4-1-2-1-2 narrow) rather than 9. This extra chemistry can make all the difference as a 10-chemistry player has the best attributes they can have. Anything less than 10 chemistry penalizes attributes and the lower the chemistry, the worse the player plays. Whilst extra performance out of your players is great, the most important part of loyalty comes with SBCs. For many SBCs, especially the harder League and Nations Hybrid SBC solutions, you can't complete them without loyalty. Loyalty also allows you to complete SBCs more easily, so whilst they may be achievable without loyalty, you may be able to do it with cheaper or lower quality players as a result of having loyalty.
How to get the Loyalty quick
The problem is, getting loyalty for the sake of completing SBCs is a painful process, because you don't want to keep those players. After completing the challenge, they will be traded with a FUT Pack. So, you wonder if there's an easier way to get this done... and the answer is yes!
With FIFA 22 Loyalty Glitch, you can bypass playing 10 games and yet get the loyalty for players. It works as follows:
Play Squad Battles vs CPU, using the players you want to get loyalty for.
Pause the game right after kick-off.
Press home button on your controller twice.
Close FIFA 22 Application
When you do that 10 times, you realize that the players get loyalty and your record in Squad Battles will not be harmed either. To get loyalty for a player, your player needs to play minimum 10 matches for your club. This applies when your player is in your Starting 11 or comes in as a sub. After 10 games, your player's loyalty badge will automatically turn green.
Getting loyalty is so easy if you referring to our news guide! And for getting Cheap FIFA 22 Coins, Z2U.com will satisfy you with the best pre-sale and after-sale service!