Genshin Impact Childe (Tartaglia) Best Build: Talents, Skills, Artifacts, Weapons & Best Teammat
Date: 2021-04-16 08:52
Childe (Tartaglia) is a 5-star character in Genshin Impact. What is the best artifact set for Childe? This guide will show you the best builds for Childe, including Childe's Skills, Artifacts, Weapons and more!
Childe (Tartaglia) - Skills / Talents
| | |
| --- | --- |
| Talent | Talent   Category |
| Normal   Attack: Cutting Torrent | Normal   Attack |
| Foul   Legacy: Raging Tide | Elemental   Skill |
| Havoc:   Obliteration | Elemental   Burst |
| Never   Ending | Passive   Skill 1 |
| Sword   of Torrents | Passive   Skill 2 |
| Master   of Weaponry | Passive   Skill 3 |
Childe Best Artifacts
The Heart of Depth set is practically made for Childe, with the 2-piece set giving him a 15% Hydro DMG bonus and the 4-piece set increasing both his Normal Attack and Charged Attack DMG by 30% for 15 seconds after using his Elemental Skill.
Using a 2-piece Heart of Depth set along with a 2-piece Noblesse Oblige set (Elemental Burst DMG +20%) also works for players who do not have enough Heart of Depth artifacts to get the 4-piece bonus. When choosing artifacts, players should focus on ATK%, Hydro DMG, and CRIT Rate.
Childe Build: Best Weapons
These are some of the best weapons to use with Childe:
| | |
| --- | --- |
| Weapon Name | In-Game Description |
| Skyward Harp | Echoing Ballad: Increases CRIT DMG by   20~40%. Hits have a 60~100% chance to inflict a small AoE attack, dealing   125% Physical ATK DMG. Can only occur once every 4~2s. |
| Rust | Rapid Firing: Increases Normal Attack DMG   by 40~80% but decreases Charged Attack DMG by 10%. |
| Amos's Bow | Strong-Willed: Increases Normal Attack   and Charged Attack DMG by 12~24%. After a Normal or Charged Attack is fired,   DMG dealt increases by a further 8~16% every 0.1 seconds up to 5 times. |
| Favonius Warbow | WindfallCRIT hits have a 60~100% chance   to generate 1 Elemental Orb, which will regenerate 6 Energy for the   character. Can only occur once every 12~6s. |
| The Stringless | Arrowless Song: Increases Elemental Skill   and Elemental Burst DMG by 24~48%. |
| Elegy for the End | The Parting Refrain: A part of the   "Millennial Movement" that wanders amidst the winds. Increases   Elemental Mastery by 60~120.When the Elemental Skills or Elemental Bursts of   the character wielding this weapon hit opponents, that character gains a   Sigil of Remembrance. This effect can be triggered once every 0.2s and can be   triggered even if said character is not on the field.When you possess 4   Sigils of Remembrance, all of them will be consumed and all nearby party   members will obtain the "Millennial Movement: Farewell Song" effect   for 12s. "Millennial Movement: Farewell Song" increases Elemental   Mastery by 100~200 and increases ATK by 20~40%.Once this effect is triggered,   you will not gain Sigils of Remembrance for 20s. Of the many effects of the   "Millennial Movement," buffs of the same type will not stack. |
Recommended Party Members for Tartaglia (Childe)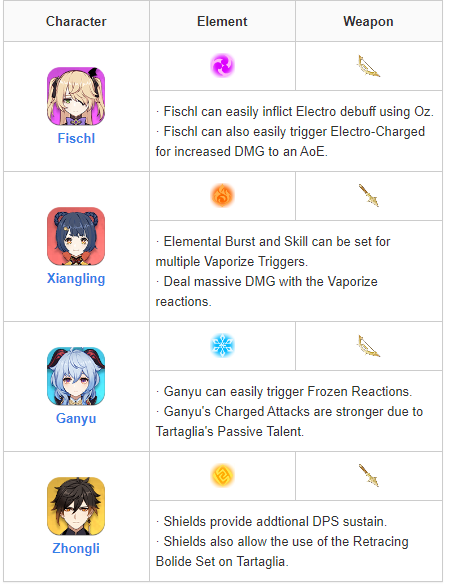 Do you want to get all of these Genshin Impact Characters? You can buy cheap Genshin Impact Accounts via secure trading platform Z2U.com, cheap, safe, fast, 24/7!