WOW TBC Classic Warlock Guide: Best Races, Professions, Strengths and Weaknesses and more
Date: 2021-07-06 08:37
This guide will help you to improve as a DPS Warlock in all aspects of the game, hope this is helpful to some people, and hope you enjoy reading!
Best Races for Warlock DPS in Burning Crusade
Alliance
Gnomes have a very minor edge on humans for DPS thanks to  Expansive Mind. Alliance players enjoy an extra 1% hit chance when in a party with  Inspiring Presence provided by a Draenei.
Horde
Orc is the clear overall winner for Warlock DPS.  Blood Fury is about a 1% DPS gain over all the other races, the exception being a gnome in a group with a  Inspiring Presence provided by a Draenei. A Demonology warlock will even see bigger gains thanks to  Command.
Best Professions for Warlock DPS in Burning Crusade
Tailoring is going to be a must-have for raiding. If your guild makes  Drums of Battle mandatory, you will fill your second profession slot with Leatherworking. If not, Enchanting is going to give you the biggest DPS advantage. Jewelcrafting also gives you benefits, but as you can only have 1 JC unique gem it does not outweigh the Enchanting Ring Enchant bonus. Engineering is another option which has great utility and fun but no inherent DPS bonus.
Strengths and Weaknesses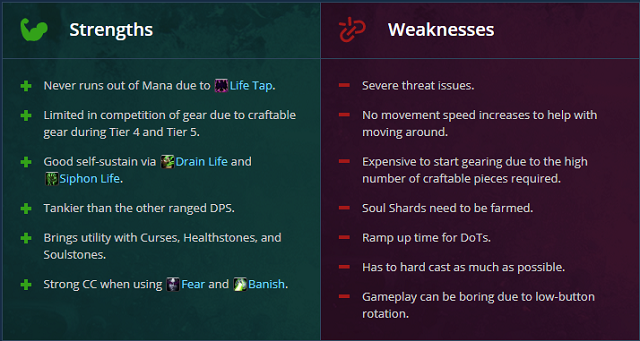 Take advantage of enslave demon
Most warlocks are running with ds where they have a demon sacrifice but that doesn't actually stop you from enslaving any of the demons in the dungeons like you do to get a little bit of extra damage. This will only work in normal mode dungeons, do bear that in mind on heroics generally mind control and enslave. Demon doesn't really work but the tinkerers in mechanic do ridiculous a weed damage. You've also got the doomsayers and shadow labyrinth. There are also some demons in botanica that look like satires and the thing called like inciters or reapers and they're basically like mini fail guards if not more powerful than fell guards because you're basically taming it an actual elite enemy. So overall just be on the lookout for particular mobs that you can enslave and you'll take advantage of. It is basically free damage and also don't forget about your infernal, you actually have a spell in your spell book where you can summon an infernal and then enslave it and you can do this with a demon.
That's it for the guide. Hope you enjoyed reading and good luck raiding, fellow warlocks! By the way, if you need to buy WOW TBC Classic Gold, we Z2U.com must be the best place for you!