Armored Core 6 Weapon Guide: How to Find Best Weapons to Stagger Enemies
Date: 2023-09-08 08:57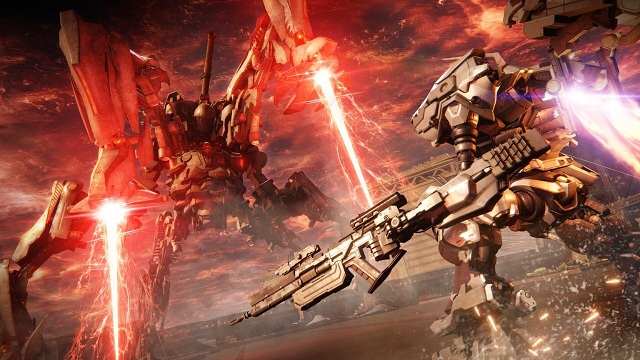 As more and more players have joined in the world of Armored Core 6, they will find more excited features and contents in the game. In order to defeat enemies in battle, players are willing to learn useful fighting tips. Staggering enemies is an important part of combat in Armored Core 6. And do you want to know the best weapons to stagger enemies in the game? Players can use Cheap Armored Core 6 Accounts to experience this great game and build the best character.
How to Stagger Enemies in Armored Core 6
In order to stagger enemies in Armored Core 6, you have to fill their impact meter. This meter is similar to that in Sekiro, fans familiar with that game will feel at home here. An enemy's impact bar lets a player know when the enemy is going to let their guard down and will become susceptible to unblockable attacks.
The Impact meter is yellow and is a different bar from their health bar so that players can identify it. In order for players to stagger enemies in the game, you need to fully deplete the Impact Meter. You need to use whatever damage and combos you can in order to deal enough damage so that their Impact meter empties, and you are capable of staggering them.
Best Weapons to Stagger Enemies in Armored Core 6
Zimmerman Shotgun
The Zimmerman Shotgun can be purchased after completing Mission 14: Ocean Crossing during Chapter 2. They cost 115,000 COAM each and are well worth the price. Duel wielding two Zimmermans is valid against most bosses in the game. These long range shotguns only have one shot before a quick reloading sequence. Try any combination of this selection of weapons whenever there is a tough fight.
DF-GA-08 Hu-Ben
Rapid-fire weapons such as Gatling guns have always been extremely powerful in every Armored Core game. The current installment of the game includes DF-GA-08 Hu-Ben, which is a Gatling gun with no magazine, so you don't have to worry about reloading it ever. Of course, this weapon is prone to overheating, but once you spew all those bullets onto your enemies, the cooldown will all be worth it. I'll put it really simply for you: Hu-Ben is the ultimate pressure weapon of Armored Core 6!
How to get: Complete the "Attack the Waypoint" mission in Chapter 1, and then purchase it from the Parts Shop for 170,000 Coam.
Songbird Grenade Cannon
Not only does this thing have a totally rad name, but it also dishes out devastating damage. The Songbird launches two grenades at an extremely fast speed—each of which deals as much damage as the average total damage of all missiles in a pod. In short, it's awesome.
The Songbird has some versatility, and I myself am still finding out how I like to use it best. On the one hand, nailing an opponent with this bad boy is almost certainly going to Stagger them. On the other hand, Direct Hitting a Staggered opponent with the Songbird deals massive damage.
Having options like this is something you should always look for in your weapons in Armored Core 6. The game is extremely dynamic, and you don't want to be using weapons that only excel at a certain thing in a certain scenario. If you're up against a slow target, great. Open with the Songbird. If your target is extremely fast and agile, Stagger them with other weapons, and then blast them into next Thursday with the Songbird.
SG-026 Haldeman Shotgun
The SG-26 Haldeman Shotgun is the best early game weapon to use. A pair of these will absolutely throttle most enemies. Get in nice and close and blast an enemy or a boss with these and watch their stagger meter fly right up. I'd highly recommend you try out a pair of these. You won't find anything much stronger until after Chapter 1.
If you are willing to try to stagger enemies in Armored Core 6, you can experiment the guidance and equip the best weapons in battle. Players can Buy Armored Core 6 Accounts to join in the adventurous battle quickly.