COD Modern Warfare 2 Weapon Guide: How to Select Good Weapons in COD MW 2
Date: 2022-11-21 08:47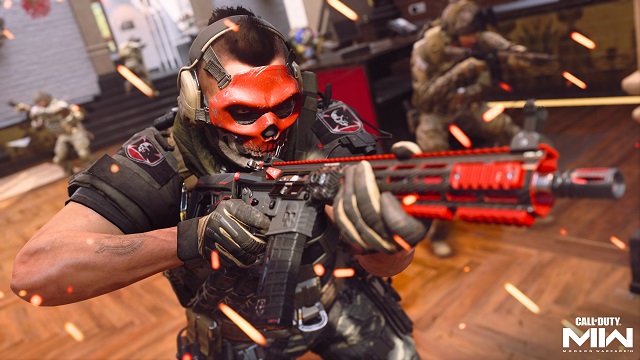 As COD Modern Warfare 2 releases, more and more players have joined in the matches and fight against each other. Meanwhile, there are new and old weapons for players to play in COD Modern Warfare 2. Many players are willing to discover good weapons to use in the process of matching. In this article, we are going to recommend several good weapons for players to use in the game. You can read this article and find which one is suitable for your playstyle in Modern Warfare 2. Players can use COD Modern Warfare 2 Points to get unique skins for your weapons or unlock new characters in the game.
Several Good Weapons for Players to Use in COD Modern Warfare 2
SP-R 208
The SP-R 208 is an absolute beast, and the very first marksman rifle you'll unlock. It's a one-shot kill to the head and torso, so as long as you can aim down sights quickly and hit your target, you'll usually finish them quickly. In terms of setting it up, prioritise speed and ADS. Don't worry too much about optics or increasing damage range.
Kastov 762
The Kastov 762 is secretly posing as the legendary AK-47, so you already know what you're getting with the weapon's base form, a ton of firepower with a hefty kick.
With ADS not being as critical as in MW2, we can concentrate on improving the gun's recoil stats, an important factor in making the Kastov 762 one of the game's top dogs. As with any AK-47 in history, if you can keep the recoil under control, then it's almost guaranteed to get you kills.
Sniper Rifle: Signal 50
The remarkable Signal 50 is a rather unusual Sniper Rifle; it has the lowest damage and worst handling speeds of any Sniper Rifle in MW 2, but its amazingly high refire rate allows you to easily knock down enemies at long-range with a couple of well-placed shots. The other Sniper Rifles deal more damage but at true sniper ranges, none of them are likely to kill in a single shot.
That's why the Signal 50 is a fantastic option for MW 2; you can very quickly follow up your first shot with another, and another, until your target is well and truly finished. Its heft also lowers the recoil, making it very easy to keep your crosshair on the target and quickly land those vital follow-up shots.
SMG: Lachmann Sub
For those wanting some close-quarters firepower, the Lachmann Sub is the early frontrunner. Heavily resembling the MP5, the SMG comes with a lethal rate of fire and mobility that's very hard to beat when up close and personal with an opponent. Thanks to the gunsmith, there are limitless ways to customise the Lachmann Sub to suit any style of play, making it the best MW 2 SMG.
FTAC Recon
The FTAC Recon is a semi-automatic battle rifle, meaning it's slower than the M4 and SMGs listed above, but it still packs a punch. If you're struggling in medium-long range encounters and need something that can strike from a distance with accuracy and damage, the FTAC Recon is the gun for you. It doesn't have the same power as Sniper Rifles, but at medium range, the low time to kill across Modern Warfare 2 means that you'll only need to land one or two shots before bagging a kill.
If you are still looking for the weapons to use in COD Modern Warfare 2, you can consider these listed weapons in the matches. In addition, you can also unlock attachments to level up these weapons to enhance their damage. You can Buy Call of Duty MW 2 Points to unlock desired and powerful weapons in the game, which help you defeat more enemies in the matches.