Destiny 2 Game Guide: How to Obtain the Legendary Stasis Zephyr Sword in Dawning Event
Date: 2022-01-11 08:34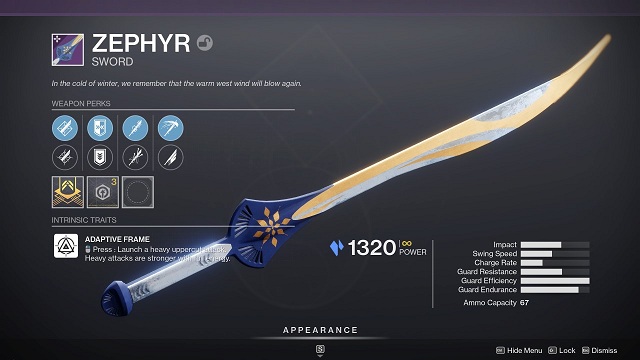 Players are excited about the back of Dawning Event in Destiny 2. There are some new items that players can obtain through completing relevant quests in the game. There are two new quests in the Dawning Event. In the Rite of Dawning quest, players can obtain weapons that they have missed in the former Dawning Event, and in the Pigeon Provides, they can have access to obtain the new legendary stasis sword, the Zephyr Sword. So, players can learn from this article to know how to obtain the Legendary Stasis Zephyr Sword. Moreover, if you are looking for beautiful skins for your gear in the game, you can buy D2 Silver to select them easily in Destiny 2.
How to Obtain the Zephyr Sword in Dawning Event
To start the Pigeon Provides questline, players will first have to complete the first mission in Destiny 2's Season of the Splicer, which places Saint-14 in the tower as an NPC. After doing so, head to Eva Levante in the middle of the tower to pick up the Pigeon Provides quest. The Pigeon Provides is a 10-step quest that can get a bit confusing at times due to the amount of "ingredients" players have to collect in certain areas, but it can be done quickly if they know where to look.
In true Dawning fashion, baking is, of course, involved in this quest, but players won't be collecting ingredients as they do for their other recipes. Instead, after talking to Eva, she'll send the player to Saint-14, who will then say that the player needs to find an Elinski treat recipe at a marked location on Europa. Before flying to Europa, players should pick up the snowball bounty from Eva, allowing them to earn 15 Dawning Spirit needed for the questline after getting 50 kills with Destiny 2's snowballs. Then, players can ly to the Eventide Ruins spawn point on Europa and head to the marked spot on the map to begin the Pigeon Provides questline.
When it comes to the Zephyr, you are really only looking for one specific roll. In the first column, Jagged Edge is the best choice as it will give you +10 to your Impact which increases this weapon's damage. Sure it lowers our ammo reserves, but we will be using this sword mainly to trigger a variety of Stasis fragments and the Focusing Lens mod. In the guard slot, I am going with Balanced Guard. While this perk doesn't excel in a specific area, it provides a nice bonus across multiple stats making for a more consistent performing weapon.
As for our primary perks, we are picking Relentless Strikes simply because it will grant us sword ammo after hitting three light attacks in a row. This has always been a wonderful option for swords since you'll typically use the light attacks to deal with rank-and-file enemies. Alternatively, you can go with Tireless Blade as it refunds ammo upon killing an enemy with a powered sword attack. However, I don't like that you need to kill an enemy to trigger this ability, since Relentless Strikes just awards ammo for hitting foes. Finally, you will absolutely want the Cold Steel perk. This slows any enemy hit with a powered sword attack, which triggers a lot of different Stasis abilities and even the Focusing Lens mod.
Dawning weapons can come from Gifts in Return, which players can earn by delivering cookies to any NPC. That formula is filled with RNG, though, and opening one of those gifts could give a different Dawning weapon or even a world drop.
If you have completed The Pigeon Provides, you can spend five Dawning Spirit to focus one of your Gifts into an Edgy Gift, which guarantees either the Zephyr or a Cold Front. Pair it with Eva's Perky Presents and Perkier Presents, which bring a chance for an additional perk in each column, and you get a decent source of Zephyr rolls as long as you can continue stacking Gifts and Dawning Spirit.
If players can obtain this Zephyr Sword, they can equip it with their character in the game in order to improve their ability of attack. In addition, players can Buy Destiny 2 Silver to purchase other essential gear for their character to make them survive longer during questing. There are cheap prices about Destiny 2 Silver on z2u.com.