Genshin Impact 4.2 Version Furina Guide: How to Build the Best Furina in 4.2 Version
Date: 2023-11-09 09:15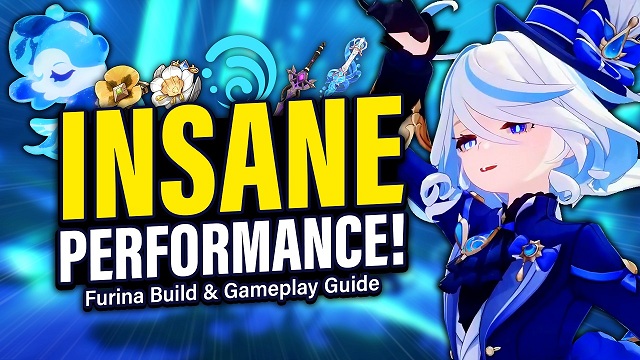 In the latest Genshin Impact 4.2 version, there are a lot of new things added to the game. For instance, new bosses, quests and long-awated Hydro Archon character Furina. Many players are waiting for the addition of Furina. And do you want to know how to build the best Furina in Genshin Impact 4.2 version? You can get Cheap Genshin Impact Crystals to unlock good characters for your team in the latest 4.2 version.
Furina, 5-Star Hydro Character in Genshin Impact 4.2 Version
Furina is the long-awaited Hydro Archon in Genshin Impact, arriving as a powerful new 5-star sword-wielding character in version 4.2. As the God of Justice ruling over Fontaine, Furina brings impressive offensive and defensive utility through her unique kit.
How to Build the Best Furina in Genshin Impact 4.2 Version
As a sub-DPS, Furina will jump in to activate her Elemental Skill and quickly be swapped out. This will allow the main DPS to deal damage while her Ousia-aligned elemental projections deal Hydro DMG – at the cost of the party's HP. Furina also provides off-field Hydro application this way, facilitating Elemental Reactions in Genshin Impact.
As a healer, Furina will be aligned with Pneuma, and her build is focused on boosting her HP stat to provide more restoration. As a buffer, she is aligned to Ousia and has a unique build, relying on her Burst to trigger the ATK bonus for the team.
Best Weapons for Furina in Genshin Impact 4.2 Version
Furina's best weapon is her signature weapon, Splendor of Tranquil Waters. This is a weapon with a lot of Crit DMG that increases the damage of her Elemental Skill whenever her HP increases or decreases, and also boosts her Max HP whenever other party members have a change to their HP too. It's literally made for her, so there are no surprises there.
In terms of other good five-star weapons, the best ones are ones that are HP-related. That means the Key of Khaj-Nisut, which is Nilou's signature weapon, is a great shout, and the Primordial Jade Cutter is a strong option too.
Some good four-star options for her will likely be the Fleuve Cendre Ferryman, which has an Energy Recharge substat, and a passive that boosts both Elemental Skill Crit Rate and Energy Recharge. There's also the Festering Desire from a 1.2 event that grants increases Elemental Skill DMG and Elemental Skill Crit Rate, although if you don't have this, you can't get it, which is a shame.
Best Artifacts for Furina in Genshin Impact 4.2 Version
4-piece Golden Troupe
Increases Elemental Skill DMG by 20%.
Increases Elemental Skill DMG by 25%. Additionally, when not on the field, Elemental Skill DMG will be further increased by 25%. This effect will be cleared 2s after taking the field.
Golden Troupe is the Artifact Set to go to if your focus is to increase the DMG of Furina's summons. This set gives her a total of 70% bonus Elemental Skill DMG when she is off-field, which is likely what you will do with her anyway. As such, you can just equip this on her, and let her summons do all the work. This is a good Artifact set if you intend to keep Furina in her Ousia state a lot.
Best Team Comps with Furina in Genshin Impact 4.2 Version
Furina is an excellent addition to any team requiring off-field Hydro application as well as a bit of sustainability – she's a little like Kokomi, but not as geared towards healing as the priestess of Watatsumi Island.
Wriothesley (Main DPS), Furina (Sub DPS), Shenhe (Sub DPS), Kazuha (Support)
Wriothesley is a strong candidate for leading a Freeze team built around him, in which Furina can fill the niche of healer and Hydro applicator. Shenhe and Kazuha amplify Wriothesley's DPS and provide crown control.
Neuvillette (Main DPS), Furina (Sub DPS), Fischl (Sub DPS), Kazuha (Support)
Neuvillette is another character benefitting from Furina's presence. They can buff each other's maximum HP through Hydro Resonance, while their passive mechanics revolving around their HP changing can synergize with each other. Kazuha once again adds crown control and some resistance shred, while an off-field character like Fischl or Yae Miko adds the Electro element.
If you are willing to get Furina in Genshin Impact 4.2 version, you can Buy Genshin Impact Genesis Crystals to get her in the banner activity. Then, you can follow the guidance to build the best Furina with your team.