Genshin Impact Game Guide: How to Solve the Kabayama Ghost Puzzle in Genshin Impact
Date: 2022-01-14 08:41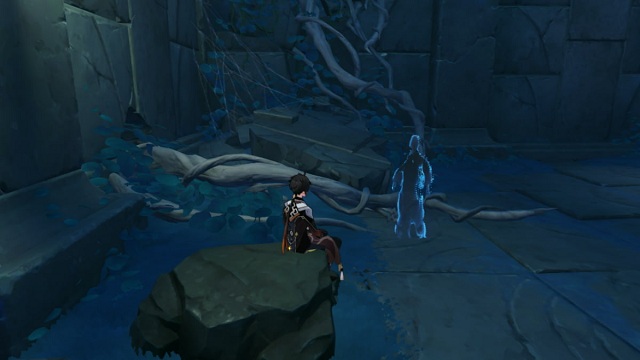 Players are curious about finding the hidden objectives when they are exploring the new area in Genshin Impact. One of the hidden quests is the Kabayama's Sitting Stones puzzle in Enkanomiya. You can learn guidance about how to solve the Kabayama Ghost puzzle from this article. However, if you are trouble in bosses fights in Genshin Impact, it is time to buy Genshin Impact Genesis Crystals to upgrade your characters in time. The improvement of ability will make them stronger than before. 
How to Find Kabayama Sitting Stones 
Enkanomiya is shrouded in mysteries, including the existence of afterimages during Evernight. Kabayama is an interesting character who you can meet by chance in the most discreet way possible. Before starting this Hidden Exploration Objective, switch your daylight settings to Evernight.
First, make sure that Evernight is active since this is the only time that shades will be visible in Enkanomiya. Next, choose the eastern fast travel point in Dainichi Mikoshi and look at the northeastern face of the shrine's walls. You should see an opening there (i.e., there's a locked chest surrounded by several Hydro totems if you need a landmark).
Pass through the opening and go to the end of the corridor to find a dark grey stone. Press "F" to sit on it, causing the specter of Kabayama to appear. He tells you that there are three other similar-looking spots in Enkanomiya. This task won't even appear as a sidequest, but that's fine. All right, let's go ahead and look for the Kabayama sitting stones and lanterns in Genshin Impact.
The first spot in Kabayama's Genshin Impact puzzle is, "beneath a stone gate at the highest point in The Narrows." Another is, "an open space surrounded by corals near the Evernight Temple" in Genshin Impact. The third spot is beside the towering ruins at the Serpent's Heart.
To find the next Sitting Spot, players should reach the centermost Waypoint at Evernight Temple and head slightly southwest toward a point at which several cliffs converge. Near some glowing trunks jutting from the ground, Genshin Impact fans can spot a lantern near a ridge, hanging over a flat-surfaced rock, perfect for sitting.
How to Solve the Kabayama Ghost Puzzle
Once you've found all three — making sure that Paimon has commented while you were at each location — then Paimon will also tell you to return to Kabayama. He'll ask you a couple of questions before departing.
Sit on the stone to prompt a dialogue from Paimon. Then climb the tree or structure to reach the lamp, which you can interact with to find out snippets of Kabayama's past. The same formula applies to all three special spots.
Finally, players can travel to the central Waypoint of the Serpent's Heart and look directly north to see a short plateau with a lone tree holding a lantern from the tip of its trunk. The Traveler should sit on the stone beneath and then return to Kabayama to be rewarded with the Genshin Impact achievement "What Difference Does This Make?" and a Precious Chest full of loot.
There are a lot of hidden quests for players to explore in Genshin Impact. If you need to collect some materials in the game, you can Buy Genshin Impact Top Up to purchase them easily. You can find cheap prices about Genshin Impact Top Up on z2u.com.