Madden NFL 23: New Features and Changes of Face of the Franchise in MUT 23
Date: 2022-08-10 08:41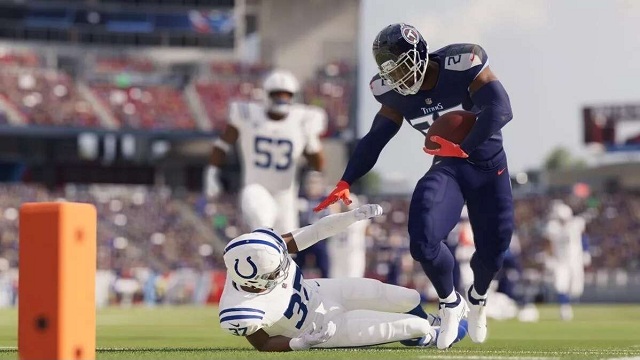 Many Madden NFL 23 Fans are eagerly waiting for the release of Madden 23, and they are wondering everything about the news of Madden 23. And EA Sports has announced the main details of Face of the Franchise in Madden 23. There are some changes and new features of this mode. Players can read this article to know more about it. Players can buy MUT 23 Coins to purchase good equipment for characters and make good progress in the team. 

Players have access to start as a fifth-year free agent
Unlike previous years in which you began Face of the Franchise as an NFL rookie straight from the draft, Madden 23 will start you off as an underutilized fifth-year free agent. Utilizing Madden 23's improved free agency contract signing system, the biggest decision you'll make at the start is signing with the right team.
Madden 23 wants to get you onto the field as quickly as possible and EA promises that it'll take just 15 minutes from creating your player and signing with a team to running out onto the field and starting your next journey in the NFL. Although part of the appeal of Face of the Franchise is the role-playing, they don't want too much prologue at the beginning. After all, the fun of Madden is actually playing football.
It sounds like starting as a veteran is your only option in Madden 23, but I think it would be cool if they kept the option to begin your career from the NFL Draft.
New Features: Franchise Hub, Scouting, and Draft Classes
The Franchise Hub is another big focus for the team behind Madden NFL 23 as they understand you can "spend as much time off the field as you spend on the field." Alongside making it so the hub features your team's primary color and logo, there will be updates to the Activity Feed, Scouting, and more.
In regards to Scouting, over 50 scouts have been added in Madden NFL 23, ensuring that "every position has at least one scout in each tier with that particular expertise." You will also be able to scout multiple positions at each stage and there have been improvements made to revealing attributes and information for college prospects.
Draft Classes will include 30 new templates that will further describe how these up-and-comers are being looked at, including Generational Prospects, 99 Club Prospects, High Variance Prospects, Specialist Prospects, and more.
Madden NFL 23 Face of the Franchise: The League
In Madden NFL 23, the Face of the Franchise mode invites players to step into the shoes of a professional football player on the cusp of perhaps losing their spot in the league. Players will be dropped into their fifth NFL season at a skill position of their choice (QB, WR, RB, CB and MLB) while seeking a fresh start with a new team.
The first order of business is signing a one-year "prove-it" contract with one of 32 NFL teams and showing out on the field in order to earn rewards and level up. In terms of gameplay, new position-specific mechanics courtesy of FieldSENSE and player-focused cameras are said to be main points of improvement. For instance, branching WR releases and cuts, defensive back presses and counters and an all-new defensive evade mechanic are described as having been "created specifically" with player-locked modes like Face of the Franchise: The League in mind.
There are some good changes in the Face of the Franchise of Madden NFL 23. Players can try to build their best characters in this mode and become the popular star in the league. You can also Buy Madden 23 Coins to level up the basic stats of characters in order to become the strongest players in the team.