Madden NFL 23 Pre-Order Guide: Which Edition of Madden 23 Do You Need?
Date: 2022-08-02 08:40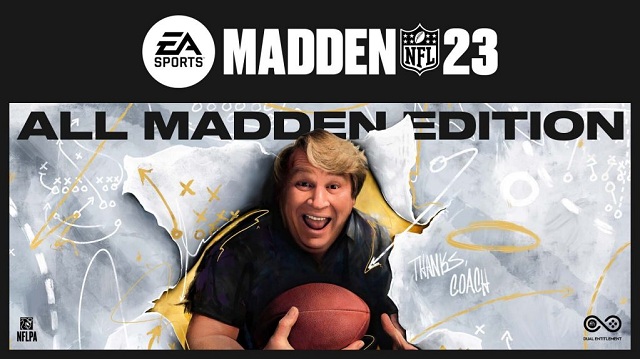 EA Sports has confirmed the release date of Madden NFL 23, and they have allowed fans of Madden Series to pre-order this game. The Madden 23 release date is slated for August 19th. While there are different editions of Madden 23, which edition do players need according to their playstyle? You can read this article to know about the bonuses of different editions of Madden 23. Players can use MUT 23 Coins to purchase their desired cards for improving the capacity of MUT Team in Madden 23. 
Madden 23 Standard Edition Price
For $59.99 (or less) if you own a PS4 or Xbox One, or $69.99 (or less) if you own an PS5 or Xbox Series X, you get a copy of the game and some bonuses if you order before the game's release in August.
Bonuses of Madden 23 Standard Edition
Choice of 2 Elite Players (1 Offensive & 1 Defensive) in Madden NFL 23 Ultimate Team
All Madden Gear to use in Madden NFL 23 Ultimate Team and The Yard
Madden Strategy Item in Madden NFL 23 Ultimate Team
Madden 23 All Madden Edition Price
If you're going deep with this game and want to have the iconic image of Madden busting through a background, the All Madden edition is your best deal, as long as you do so before July 22 for the most value. This version runs $100 but is good for both generations of consoles, PS4 and PS5 or Xbox One and Xbox Series X/S, or PC. 
Bonuses of Madden 23 All Madden Edition
3-day early access
4600 Madden Points
Exclusive Early Access Challenges
Choice of 2 Elite Players (1 offensive & 1 defensive)
All Madden Gear
Madden Strategy Item
Madden 23 New Features:
Madden NFL 23 is looking to shake things up this year with its new Fieldsense system. This allows players to have unprecedented control over the action, with athletes responding more realistically to your inputs and giving them access to a deep library of branching animations. If all goes as planned, movements should look more life-like than ever before.
Defense has also been reworked, with the goal of making the action more visceral and rewarding. Dubbed, Hit Everything, Madden NFL 23 will let you tackle players in mid-air, launch yourself into a pile of players to knock the ball loose, or simply line up a big hit to force a turnover. 
The single-player mode, Face of the Franchise, allows you to take control of an established NFL player entering the free agency market. It skips the high school and college portions of Madden 22, allowing you to jump straight into the action. You'll also focus on controlling just one player, rather than having to manipulate an entire team.
How to Choose the right edition of Madden NFL 23
The Standard Edition of Madden 23 is the cheapest, most basic option. It literally comes with just the base game on the platform of your choice. That being said, there are some important things to consider when purchasing this one.
For starters, how important is FieldSense? The new Gameplay System, which promises "consistent, ultra-realistic gameplay" is only available on the PS5 and Xbox Series X|S versions of the game. If you want the best possible version of Madden 23, this is it — but it's going to cost you $69.99.
If you are crazy fans of Madden Series, you have to buy All Madden Edition in advance. So, you can have access to play this game earlier than others and purchase the good player cards for your MUT Team. You can make good progress in this mode if you owe this edition early. 
If players want to get the popular player cards for their ultimate team, you can Buy Madden 23 Coins to collect them early in the game, which helps you build the best team in MUT Mode.