Madden NFL 23 RB Ability Guide: How to Choose Best Abilities For Running Back in MUT 23
Date: 2022-09-12 08:44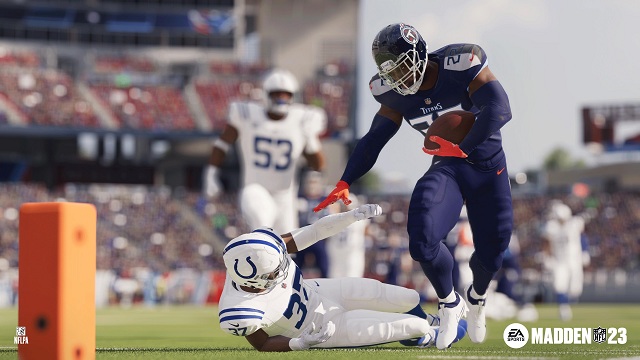 When players are playing matches in Madden NFL 23, Running back plays an important role in the team. Although the role of them has changed a lot during the long madden league, they still influence the pace of matches all the time. In order to make your running back competitive in Madden 23, you need select good abilities to equip. Here is the guidance about how to choose the best abilities for RB in Madden 23. Players can also use MUT 23 Coins to select suitable equipment for upgrading players and try to win more matches in the Ultimate Team Mode.
Best Abilities for RB in Madden NFL 23
Backfield Master
Over the course of a game, your opponent will start to pick up on your habits. Favorite plays and formations will become easily identifiable, and what worked in the first quarter or half will be irrelevant in the second half.
Backfield Raster gives your running back four additional hot routes, as well as increased route-running and catching skills against linebackers and linemen. One of the routes they add is Texas, which is a Cover 2 killer. If the defense is smothering your slot and outside receivers, this route will make them pay for leaving the mid-zone wide open. There is also an option for a flat route which you can use if they are filling up the box and you want to force them into a zone.
Bulldozer
Certain rushers like Dalvin Cook or Alvin Kamara excel at avoiding contact and being elusive in the backfield. Other rushers, like Joe Mixon, are a different story. The Cincinnati Bengals running back relishes contact and he makes it a point to bulldoze over defenders who try to take him down.
Rushers equipped with the Bulldozer ability boost their trucking animations and allow him to power through most defenders. These running backs want defenders to attempt to tackle them, only to show how little effect they have on them. Offenses that utilize running backs with Bulldozer try to control the line of scrimmage by smashing the ball right up the middle.
Bruiser
Running backs take a lot of punishment from the defense. Once the ball is handed off, there are 11 defenders eager to rip their head off. A solid offensive line can help by blocking, but as a running back, contact is almost guaranteed. A running back with brute strength can sway advantage in your favor in one on one situations.  
The Bruiser ability combines the Arm Bar and Bulldozer abilities. It gives the ball carrier extra power during truck stick and armbar animations. This ability is extremely effective on stretch and toss plays – plays which usually push you towards the sidelines where you are more likely to be in one on one situations. Use running backs like Nick Chubb or Derrick Henry to get the most out of this ability.  
Tank
Sometimes, defenders attempt hit-stick tackles to try and cause a fumble. These tackles can be a bit more out of control and might miss the ball carrier entirely, but the trade-off is significantly more powerful than regular tackles. A way for running backs to counter hit-stick tackles is with the Tank ability.
Strong runners like Derrick Henry can shed any tackles, even hit-stick tackles, with the Tank ability. They can easily break free from these attempts and continue fighting for extra yards. The Tank ability can be the difference between a massive blown play or salvaging a few positive yards.
If you want to select suitable abilities for your Running back player in Madden 23, you can consider these best abilities in advance. While, you should also take your team build into account at the same time. If you are looking for some good players in different positions, you can Buy Madden 23 Coins to purchase them and enhance the competence of your team in matches.