MLB The Show 21 How to Play with Friends on Xbox, PS4 and PS5
Date: 2021-10-23 08:38
Can you play online against friends in MLB The Show 21? MLB 21 games feature allows you to challenge your friends. Here is how:
How to Play With Friends in MLB The Show 21
The first step when it comes to playing with your friends in MLB The Show 21 is adding those friends as a friend within the game itself. If you're looking to play with a friend on another platform, you'll also want to ensure that Cross Play is on in MLB The Show 21.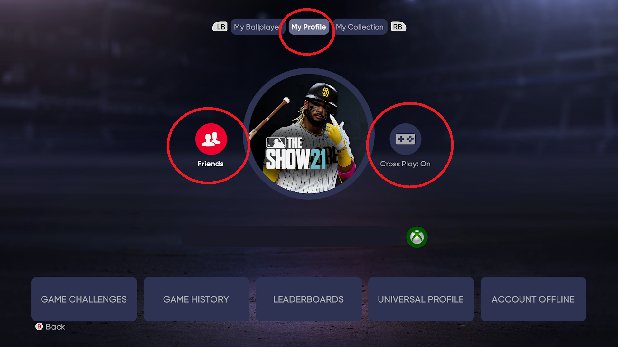 How to add friends on MLB The Show 21
Before setting up the game lobby to play against your friend, you'll need to first add them to your friends' list. You can send and receive friend requests to add gamers to your list.
·Open menu (select or start button)
·Click on the 'Friends' tab
·Select the 'Requests' tab
·Select 'Send New Friend Request'
·Type in your friends gamertag
Your friend will receive a notification of your friend request. If not, have them follow the same steps and they should find your friend request under the 'Requests' tab.
How to Enable Cross Play in MLB The Show 21
·Return to the main menu
·Select profile in upper left corner
·"My Profile" tab
Look for icon in "My Profile" to enable cross-play to the right of your profile picture
With Cross Play turned on, you should be able to play with friends on other platforms including PlayStation. That said, don't forget to add your friends in MLB The Show 21 by following the steps outlined above.
With all of those steps complete, you can now play against your friends in MLB The Show 21.
How to Play Exhibition Games Against Friends
If you just want to play with standard rosters, you'll be set if you hop into an exhibition game with a friend. The easiest way to do this is to hit your touchpad (Xbox button on Xbox) to take you to your profile. From here, you need to select friends, which brings up your friends list. Then, select the friend you want to play with and choose to play an exhibition match.
Of course, if you're on a PS5 and wanting to play a friend on Xbox Series X, you'll need to add them as a friend first. To do this, go to your friends list and go to the option to search for a friend. If they've logged into MLB The Show 21, you'll be able to search their user name and add them as a Show friend. They won't be visible if they haven't already launched the app, so make sure they've done that before you go searching.
How to Play Diamond Dynasty Against Friends
If you want to test your Diamond Dynasty team against your friends, all you need to do is hop into the mode and switch to the "Play" tab. Then, move over to the online modes and you'll see the option to play online against friends.
Follow this short article, and you will know how to play against with your friends! And for MLB 21 Stubs, you can also find them at Z2U.com with the cheapest price ever!