MLB The Show 21 Make Stubs Fast: Best and Easiest Way to get Stubs in MLB 21
Date: 2021-09-14 08:43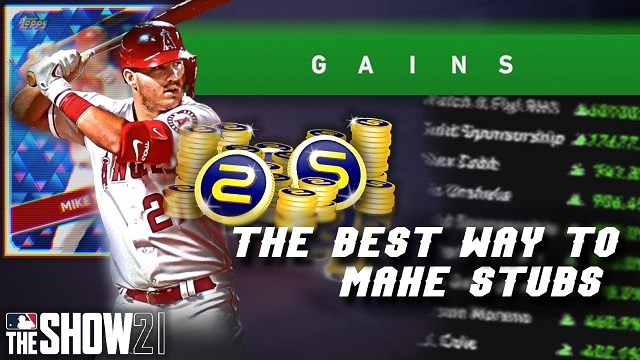 To play well with MLB The Show 21, you are required a lot of stubs! So, we list some useful and helpful tips to help you earn free MLB The Show 21 Stubs.
How to get MLB The Show 21 Stubs?
Complete the Moments
One of the key elements that were added just a few years ago are Moments and these are the easiest way to earn some extra stubs in the game. Moments vary in difficulty but most of them are very easy to complete.  You don't need to put a lot of effort into completing Moments which makes them a great way to get stubs fast in MLB The Show 21.
Reap Rewards from Programs
MLB The Show 21 has a mechanic called 'Programs' which works as a progression tracker. Programs basically reward you for playing the game and progressing through it. In these Programs, you'll get rewards based on how much XP you've earned during that season. The more matches you play and the more objectives you complete; the more XP you will earn. Make sure to take note of the tasks that are listed under reach Program. This will help you guarantee that you're reaping all the benefits from the Program.
Use And Abuse The Market
Quick sell is generally a ripoff for the seller. Even diamond quality cards can quick sell for two-digit values; that is a colossal underpayment. Check the market first to see if there is a buyer who will take the card for more than minimum value. After that, check the collections section to see if the card can be added to anything; these payouts aren't the best, but they are absolutely better than a quick sell. When opening packs, choose cards with the highest "sell now" option, even if the card itself is less highly ranked than other cards. It's better to find a buyer now than to hope for a buyer later.
Conquest has hidden rewards in Diamond Dynasty
Conquest is already one of the best ways to get XP fast in MLB The Show 21, but it'll also be a major boon for stubs and packs in general. Part of this is because each Conquest map is littered with hidden rewards that you'll earn just for taking over the tile containing it, and this can often be done without ever playing full games. Make sure to spend some time in Conquest taking as much territory as possible, and this will help you net some very fast rewards.
Finally, you can choose to buy cheap MLB The Show 21 Stubs at Z2U.com. There are many MLB 21 Stubs for Sale, including MLB The Show 21 Stubs PS4, MLB The Show 21 Stubs PS5, MLB The Show 21 Stubs Xbox One, MLB The Show 21 Stubs Xbox Series X & MLB The Show 21 Stubs Xbox Series S, cheap, safe, fast, 24/7!