Path of Exile Solo Class Guide: How to Build the Best Solo Class in PoE
Date: 2022-09-26 08:49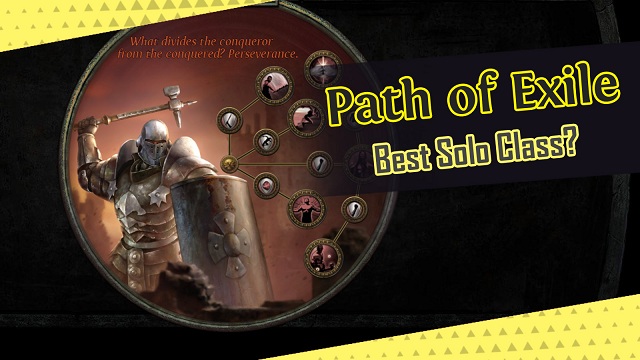 Path of Exile is a great action RPG that many players are willing to play. They are eager to explore the complex procedurally generated maps in the game. Due to the introduce of new expansion, Lake of Kalandra, players have access to enjoy more endgame contents. At the same time, if you have no idea about how to build the good solo class in the game, you can read this article and learn from the relevant guidance. Players can get Cheap PoE Currency to gather their desired gear or rare materials for upgrading characters in Path of Exile. 
The Best Solo Class build in Path of Exile
Ice Shot Mage
Players that enjoy clearing hordes of enemies with a click of a button will enjoy using POE class since it's built around skills that can clear enemies in single bursts. Moreover, since players will primarily focus on Ice-type attacks (Ice Shot and Frost Bomb), they'll be able to inflict the Slow status effect on enemies. Players should also use the Lunaris for Major Pantheon (boost movement speed and increase dodge chance by 5%) and Garukhan for Minor Pantheon (more movement speed and 5% evasion increase).
As for Bosses, players should use Barrage since it's the best Boss-melter skill in the game. The biggest issue with this build is that players will find it challenging to min-max their stats toward the end game, mainly because the build relies on multiple stats (Elemental Damage, Critical Chance/Damage, and Mana). Nonetheless, the Ice Shot Mage is worthy of being counted among some of the best Path of Exile class builds.
Mage Skeleton Necromancer
The Necromancer is a magic-based character whose skills rely on manipulating and reanimating the dead to do their bidding. These macabre casters are able to summon skeletons and dead enemies to fight for them, while they then hide in the background casting buffs to aid their minions and curses to hinder their foes.
To create the build, start with the Witch class and focus your efforts on summoning skills — specifically targetting the Skeleton Mage ability. You'll need to have an abundance of Mana to pull this off – but you'll need to accept that you'll be vulnerable when your minions die.
Be aware that the build also has a high casting time, so overcompensate for this by summoning before the melee, or by doing so out of harm's way and in good time. Then sit back and watch your minions annihilate your enemies.
Tectonic Slam Chieftain
Tectonic Slam and Chieftain are like bread and butter – they belong together. Despite the evident alchemy between the two, they are often equally overlooked in Path of Exile. Tectonic Slam is one of the recently reworked melee skills that were granted the "Slam" tag, and as such, it is conceived as a slow-hitting but high-damaging attack. It requires Endurance Charges to be consumed every third time you slam, in a similar fashion to Flicker Strike spending Frenzy Charges to bypass its cooldown. The Chieftain also has a natural affinity with Fire Damage and Endurance Charges, making the combination an explosive one, to say the least.
Elemental Hit Slayer
The Elementalist is among the best single damage classes in the Path of Exile, especially if the player uses the Elemental Hit Slayer build. One of the reasons it's a great solo build is that it uses Elemental Hit, a skill that randomly uses an element (Fire, Cold, and Lightning) to deal a massive amount of damage.
What's more, if a player equips a Unique Jewel that forces Elemental Hit to only use Fire-type damage, then it can reliably dish out a high amount of damage. This is especially effective if paired with the Keystone: Avatar of Fire.
If you want to build a good solo class in Path of Exile, you can take these builds into account. In the process of class build, you will need a lot of equipment or materials for upgrading characters. You can Buy PoE Currency to purchase essential items for leveling in the game, which allow your characters grow fast as questing.