Warhammer 40K Darktide Currency Guide: How to Farm Plasteel in Warhammer Darktide
Date: 2022-12-28 08:40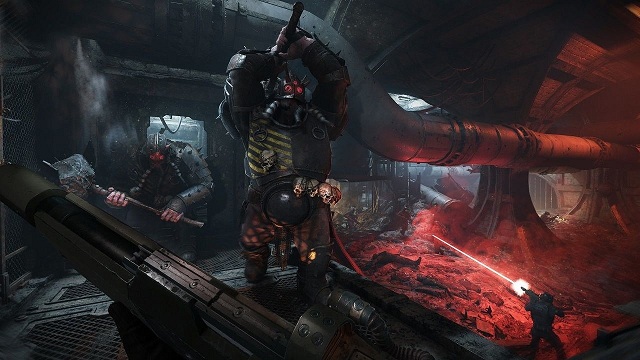 Many players are shocked by the crafting system of Warhammer 40K: Darktide, because they can craft different kinds of items in this system. Although players can choose to craft various items, they have to collect a large amount of materials instead. One of the most important materials is the Plasteel, warhammer currency. Players are all wondering about how to farm more Plasteel in the game. If you are also interested in this material, you can read this article and learn from the guidance. Players can get Cheap Warhammer 40K Darktide Accounts to play this good game with your friends and enjoy the game in your spare time. 
What's the Plasteel in Warhammer 40K: Darktide?
Plasteel is one of the most important resources in Warhammer 40K: Darktide, and that's not an understatement. Without it, you cannot improve the strength of your gear, and you definitely want to do that as you slaughter the heretics.
Once you reach Level 4, the Shrine of the Omnissiah unlocks, which allows you to use it as a crafting station. Here, you can take your Curios and weapons and tinker with them. Plasteel and Diamantine are the resources the crafting station will require.
How to Farm More Plasteel in Warhammer 40K: Darktide
Plasteel is often found in the lootable chests and boxes in Darktide. Players who take their time to explore the maps, and loot those chests will have much higher chances to get the currency. Moreso, it's not a race between players to get the currency, either. Anyone who picks up the Plasteel for their team will grant the same amount to their allies in a game. Note the currency is not shared, so playing with less players will not grant you more of the currency, which is worth noting if you intend to play a level solo or in private matches when those lobbies are available.
In order to obtain these raw materials, you have to go on missions. During them, you will have to search every part of terrain. In various containers you will find the resources you need. It is worth noting that the higher the difficulty level, the more materials you will find. Farming Diamantine starts to pay off at difficulty 3 (even at difficulty 2, the amount of Diamantine you can get is quite small compared to what you need). Remember – the more challenging the game, the better the rewards.
How to Use Plasteel Material in Warhammer 40K: Darktide
To use Plasteel, you will have to reach Trust Level 4. Then, you will have access to the Shrine of the Omnissiah. It's in Mourningstar, in the right-wing across Psykhanium. There, you can interact with Hadron Omega-7-7 and you will get to upgrade your weapon to the next rarity. Here, you will need it as a currency to level up the weapon. 
However, along with it, you will also require another crafting material called Diamantine. So keep an eye out for them during your missions. This material will be a part of the player resource pool as well. So you don't have to worry about your team members stealing the resources.
Plasteel is a kind of rare material in Warhammer 40K: Darktide. If players are willing to upgrade your weapons quickly in the game, you need farm more Plasteel instead, as well as Diamantine. You can follow the guidance in this article and try to collect more rare materials. In addition, players who want to experience this game can Buy Warhammer 40K Darktide Accounts and join in the crazy exploration.