WoW Classic WotLK Tank Class Guide: How to Build Feral Druid for PvE Mode in WotLK
Date: 2022-10-13 08:43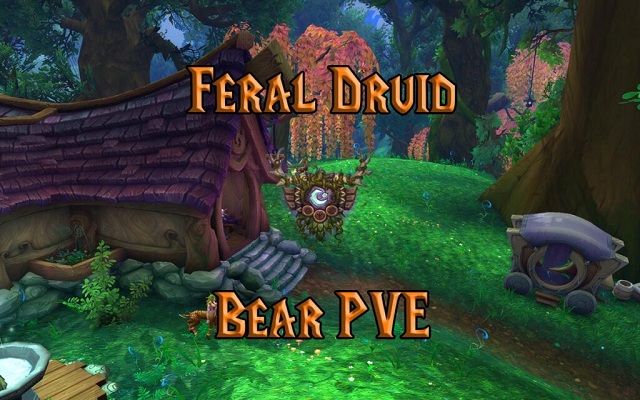 There are a variety of Classes for players to select in the beginning of WoW Classic WotLK. Some players are willing to play strong DPS classes in the game, others are going to become the stable tank role for the team. Feral Druid is one of the reliable tank classes in the world of WotLK. Many players plan to play Feral Druid class in WotLK. In this article, you can read the guidance about how to build Feral Druid for PvE Mode in WotLK. Players can get WoW WotLK Gold to earn more XP for leveling up characters quickly, which allows you to explore endgame contents in WotLK.
How to Build Feral Druid Tank Class in WoW Classic WotLK
Druids are the only class in the game capable of fulling all four roles: tank, healer, ranged DPS, and melee DPS.
Feral Tank Druids are among the sturdiest tanks in Wrath Classic, with huge health pools and great Stamina scaling, but lack in the mandatory utility department as their only unique buff is Improved Leader of the Pack IconImproved Leader of the Pack. They do still bring Innervate IconInnervate and Rebirth IconRebirth, and have the easiest time of all specializations when swapping between tanking and DPSing with the same talents, allowing them to put out great damage on fights that only need a second tank for short periods.
Feral Bear Druid Skill Rotation and Cooldowns
As a tank, you have to make sure that you maintain aggro on the enemy targets while also staying alive. Sure, the healers can help you out on that second part, but you have to make sure you're using your survivability cooldowns as well. When not actively tanking, it's important to also ensure you're doing the most DPS you can, especially since you'll be in Cat Form.
Feral Druid Tank Class New Abilities in WotLK
The new abilities introduced in WotLK fill pretty much all of the previously missing holes in the Feral toolkit from TBC. Bears now possess a strong offensive cooldown for snap Threat, a  Last Stand effect, and some much needed spell damage mitigation, giving them all of the tools necessary for competitive PvE performance as a main tank across the full range of encounters in WotLK raids. Importantly, the combination of  Savage Defense and  Protector of the Pack more than compensates for the significantly lower bear armor and avoidance values in WotLK. 
Strengths and Weakness of Feral Druid Tank Class in WotLK
Strengths:
Bears are naturally tanky and can handle a lot of incoming damage. This can be particularly helpful for progression on hard-hitting bosses.
In Wrath, Druids finally gain some defensive cooldowns, allowing them to react to or anticipate dangerous damage spikes and help them survive. BarkskinBarkskin can finally be used in bear form, and they gain Survival InstinctsSurvival Instincts. Later on, the 4-piece Tier 10 bonus gives EnrageEnrage a damage reduction buff as well.
Weaknesses:
Utility brought tends to either be weak or able to be brought by more meta classes.
Area damage is limited to Swipe (Bear) IconSwipe (Bear) and Mangle IconMangle with Berserk IconBerserk active.
While pure Dire Bear Form IconDire Bear Form form gameplay is very simple, obtaining maximum Cat Form IconCat Form DPS when not tanking requires good Energy and DoT management, as well as some advanced techniques.
Although Feral Druid is a pretty good tank class in the world of WotLK, players need know the weakness of this tank class as well. You can do other things to counterfeit them and build the best Feral Druid in WotLK. Players can choose to Buy WoW Classic WotLK Gold to select good gear for improving the basic rating of Feral Druid in the game, which allows them to survive longer in the process of questing.