How to Get Rich Quick In Diablo 2 Resurrected: Best and Fast Way to Make D2R Gold
Date: 2021-10-06 08:41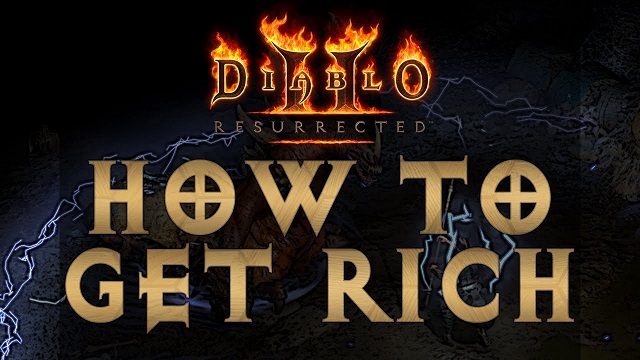 Money is the lifeblood of the real world, as well as in virtual gaming world like Diablo 2 Resurrected. In D2 Resurrected, you need a lot of money to buy powerful weapons, runes, armor and more! So, you need some useful ways to get rich in the D2R gaming world!
As the main currency in the game, Diablo 2 Resurrected Gold, also known as D2R Gold, can be used to purchase various in-game items. With a large amount of D2R Gold, players can buy the most amazing weapons in the game. The easiest way to get gold is to pick it up when a monster or box drops it. In addition to getting Diablo II: Resurrected gold, some players make significant profits by selling items to vendors. But if you don't have enough time and energy, buying D2 Resurrected Gold is the way to go, because it allows you to experience the core of the game without spending a lot of time on it. Here also offers you some free ways to earn D2R Gold!
Higher Difficulty Has Better Yields
You'll find that set items and unique items dropped from enemies in Nightmare are better than normal. This also applies to Hell mode. As the game becomes more difficult, the enemies will start to drop rarer and more powerful items. This effect is also multiplied by having more players in the room. You can have up to eight players in a room. Combine the higher difficulty farming runs, magic find, and a full room to get the best possible drop rates.
Mr. Money Bags
One achievement called Mr. Money Bags requires you to collect a total of one million gold. This may sound like it'll be a bit of a grind, but there's actually a clever workaround. Mr. Money Bags is worth 20 Xbox Gamerscore and is the last of the gold-related achievements you will unlock. While you would easily unlock this during your dozens of required playthroughs to get the full 1000 Gamerscore, there is a much quicker way for those who aren't planning on doing the full completion. The trick lies in the achievement description, "Pick up 1,000,000 gold."
Rush to Hell
Don't waste time farming on the normal difficulty. If you are playing solo, collect what you need and get through the storyline. It will be more challenging at first, but the increase in rewards will speed up your ability to build wealth ten-fold. The same goes for Hell mode, but you'll find rushing through Nightmare a bit more difficult.
Like we mentioned above, if you do not have much time farming Diablo 2 Resurrected Gold, you can also choose to buy cheap D2R Gold via reliable game store Z2U.com, all D2R Gold for sale with 30% off price!