New World: Common Mistakes Made By Beginner in New World
Date: 2021-10-09 08:34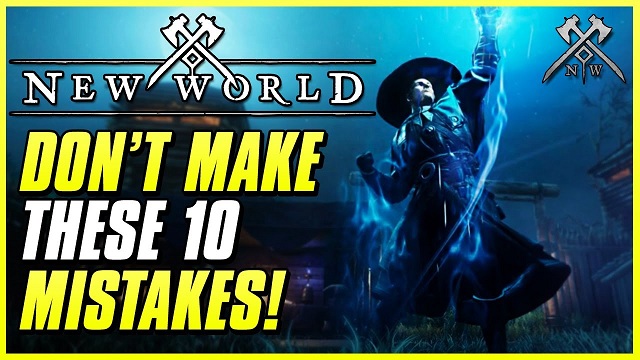 New World is a new style of MMORPG for players. It has lots of differences from other classic MMORPGs. Players may feel confused about the setting of New World when they are playing this new game at first. They may make some novice mistakes even if they are experienced in these kinds of games. So you should know some common mistakes in advance and make sure you will have a good experience in New World. Buying New World Coins are also essential for players in the game. Players can use them to purchase gear what they need to enhance the strength of character.
You Don't Need to Build Your Class or Profession
When players play the MMORPG in the beginning, the first thing to do is choosing a class or profession for your character. You can make plans or strategies for future improvement of character. However, New World has no classes or races to choose at first. Just like living in the society, players can make character learn different kinds of skills to try any professions what they want. For example, hunters, soldiers, magic-users, farmers. Every class can play a role in New World and make creative progress through efforts. So you don't have to confuse about the choices of class.
You Can't Ignore Ability Scores and Weapons
With the progress of quest in New World, your character will be upgraded by completing quests. And there will be rewarded 2 points for players to improve ability of character. At this time, players can't wait to click the button to upgrade. When it comes to weapon proficiency or other specific skills, using the ability scores is a good chance to customize your character.
If you want to build an archer, you should add scores as much as possible to Dexterity. And the hunter need more scores on the Intelligence ability to boost the Firearm skill. Some other characters has different settings. You need be careful of the allocation of ability scores.
You Don't Upgrade or Improve Tools
Each character has basic smelting and smithing skills in order to craft the available tools. They can use these tools to craft meat and herbs easily. Players often ignore the basic tools with the update of skills. The upgrading of tools will improve the efficiency of harvesting items. Players often realize the benefits after a long time spent on harvesting.
You Don't Use the Trading Post
Players often exchange or trade equipment in the MMORPG, New World gameplay. But they find there are not vendors in New World. Players don't know where they can trade the extra gear in the game. The Trading Post has the same function as vendors. It sets in every settlement, and is closed to player's Storage shed. Players often miss it at first when they are willing to travel around the Aeternum. When they need find a place that can sell the extra items for coins, they will find the Trading Post. Players can trade the items or gear freely through the Trading Post.
You Don't Gather Hemp 
Hemp in the game often is easily overlooked by players. Farmers are willing to plant Herbs like hemp. It can increase experience points and crafting utility. In the other hand, Hemp is an important component for making linen, which character can use them to craft basic clothing and fishing line. You should pay more efforts to gather hemp early and often. It will play an important role in quest.
When you are ready to play New World as beginner, you can look through these mistakes in advance. You will know how to make the right choice when you meet the same mistake from above. There are also a lot of new things for players to explore in New World. That's why New World can attract a lot of players to join in. If you want to be the winner in the territorial war, you need equip best gear for your character. Purchasing New World Coins is an effective way to make you gain the upper hand in the Trading Post. You can find cheap New World Gold on z2u.com.