Call of Duty Mobile Season 3 Update: Everything We Should Know About Season 3 Rush
Date: 2023-04-11 09:02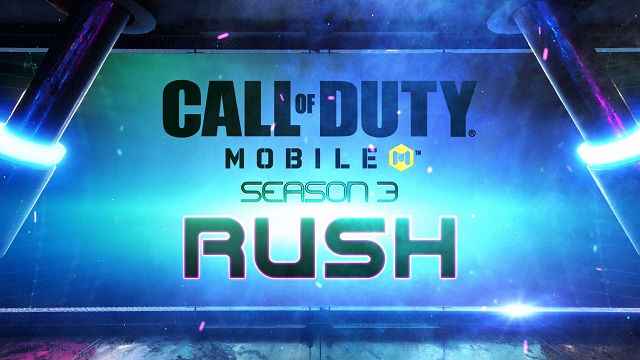 Call of Duty Mobile Season 3 has been released for players nowadays. Some eager players have joined in the new and competitive season in COD Mobile. While, others who first play Call of Duty Mobile Season 3 want to know the new features in the latest season. If you are also interested in the new features of Call of Duty Mobile Season 3, you can read this article for more information. Players can use Cheap CODM Points to unlock the latest Season 3 Battle Pass for unique weapons and items in COD Mobile.
New Features in Call of Duty Mobile Season 3 Rush
New Map: Rush Map
Rush might be the title of the season, but it's also the name of the multiplayer map coming with the update. The fast-paced Rush map comes to CoD Mobile Season 3. The entire Season 3 update shares a name with the map that made its debut in Black Ops II and later appeared in Black Ops Cold War.
Rush stays true to its name as a map that will allow players to rush straight into the action. You can take the outside route and flank your opponents through a variety of obstacles in a paintball arena. Or you can dive head-first into the center of the map which features an indoor speedball course.
New Weapon: HDR Sniper Rifle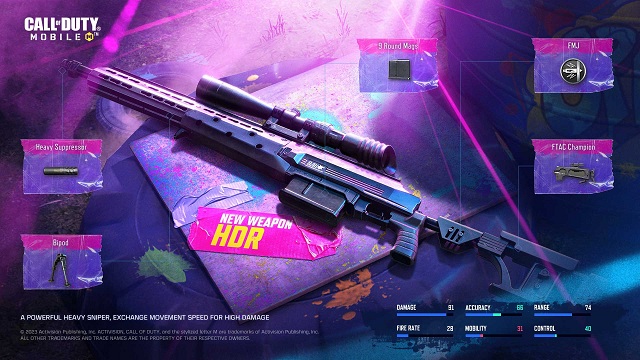 HDR Sniper Rifle
The HDR is a bolt-action sniper rifle that was first introduced in Call of Duty Modern Warfare (2019), and even during that game's single-payer campaign, the weapon was a force to be reckoned with. The gun excels in high damage output over a long distance and can easily one-tap most players, but it does fall short in the control, accuracy, and fire-rate aspects. 
However, players can most certainly tweak the gun using the Gunsmith and negate some of these drawbacks, turning the DHR into a fine long-range melter with more accuracy and control. This is even supported by Activision themselves, who have listed some attachments that are most recommended for the HDR in their promotional material as follows: 
Muzzle - Heavy Suppressor
Underbarrel - Bipod
Ammunition - 9 Round Mags
Stock - FTAC Champion
Perk - FMJ
The HDR Sniper Rifle will be available for the player to obtain once they reach tier 21 of the new battle pass.
New Training Element: Single Player Map Training
An enhanced version of Training is coming for players to hone their strategies before entering multiplayer. This option will allow you to choose a map to train on and customize the training by adding bots and their difficulty, as well as skills, or even try different weapon configurations to get you ready for the battlefield.
Safe House
It gives players a dedicated location for their player profile. This is a place where they can display their favorite operator, weapon, and vehicle skins to visiting players, and even show off recent achievements.
New Call of Duty Season 3 Battle Pass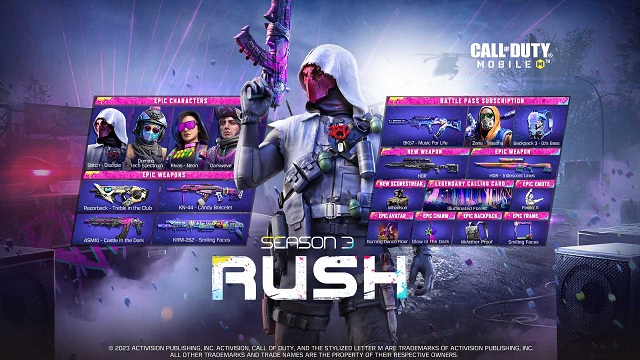 Call of Duty Mobile Season 3 Battle Pass has introduced the HDR sniper rifle (Tier 21) and the Wheelson Scorestreak (Tier 14). Both of these brand new additions are free and can be obtained with the help of BP XP, which players can earn from COD Mobile events and in-game matches (Battle Royale or Multiplayer).
Similar to previous editions of the Call of Duty Mobile Battle Pass, the Season 3: Rush BP features primary rewards up to the first 50 tiers. Beyond Tier 50, the players can earn 70 Credits or Five Vault Coins from each level in a sequential order, where two tiers offer the former and the third one offers the latter.
In order to unlock more weapons and skins rewards, players can Buy Call of Duty Mobile CP Points to get the latest Season 3 Battle Pass, and try to finish more quest for upgrading in the game.