Destiny 2 Guide: How to Obtain Salvage Keys and Deep Dive Keys in Season of the Deep
Date: 2023-05-26 08:42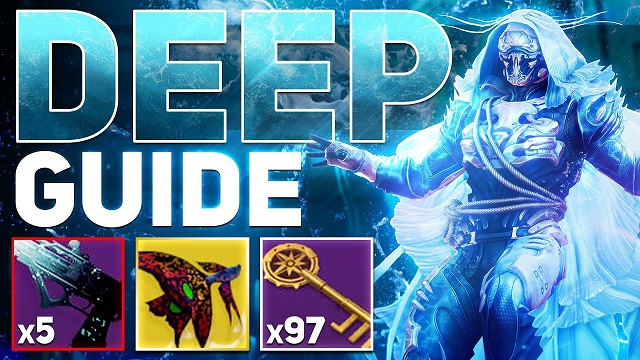 With the update of Season of the Deep in Destiny 2, players have access to join in the new Seasonal activities and obtain different kinds of weapons and armor in the game. Salvage Keys and Deep Dive Keys are main new currencies in this season. Some players want to know how to get them in Destiny 2. You can read this article for guidance. Players can use Cheap D2 Silver to find good weapons or armor for characters, which help them to complete more quests.
What are Salvage Keys and Deep Dive Keys in Destiny 2?
Deep Dive Keys are an optional resource in Destiny 2 that allows players to earn better rewards while participating in the new Deep Dive missions. These three-player missions are challenging but feature a chest at the end that can be opened for various drops. However, you will want to have some of these Seasonal Keys with you to maximize your potential rewards. This season has another key, the Salvage Key. When you use these keys at the end of the appropriate mission, you can obtain an additional Deep Engram.
Salvage Keys are a consumable item obtained from the Season Pass, Deep Dive clears, vendor rewards at the H.E.L.M., and occasionally from ritual activities—Vanguard Ops, Crucible, and Gambit matches. Similar to last season's Defiant Keys, you may only carry a limited number of Salvage Keys at any given moment. These keys are automatically used when opening the end-of-mission chest, granting additional seasonal rewards when used.
How to Get Salvage Keys and Deep Dive Keys in Destiny 2
Just like with Defiant Keys, Salvage Keys and Deep Dive Keys can be obtained by completing any activity in the game. Whether it is a core playlist activity, Seasonal activities, or even raids/dungeons, almost any activity can give players Salvage Keys and Deep Dive Keys as a reward.
Unfortunately, the drop rate on these keys is rather low. As such, it can take some time for Destiny 2 players to get these keys. Fortunately, this won't hinder their progress with the weekly story quest as it doesn't require keys to complete them anymore.
Fortunately, players don't have to rely solely on luck to get Salvage Keys and Deep Dive Keys. Though it will take some time, players can get both of these keys from the Season Pass. At Rank 12, players can get a Salvage Key. At Rank 24, players can get a Deep Dive Key. Two additional keys are acquired at Rank 52 and 92 as well. Two keys can also be obtained by reaching Rank 7 and Rank 13 with the Sonar Station.
How to Use Salvage Keys and Deep Dive Keys in Destiny 2
Salvage Keys and Deep Dive Keys are used automatically in their respective activities when players open the chest at the end of them. Not only do these keys increase the rewards from these chests, boosting the reputation gained from 40 to 200, but the items players can pick up are improved too. The Engrams players will be awarded will decode into better gear and weapons, and there's a better chance of an Exotic dropping.
To make the most of these keys, it's better to save them until closer to the end of the season. This is when most players are at or close to the maximum Power Level, meaning they'll be struggling to find the most powerful gear in Season of the Deep. By claiming Salvage and Deep Dive Keys at the end of the season, players can almost guarantee themselves incredibly powerful loot that will increase their Power Level. This will set them up nicely for the next season and ensure they can conquer any raid or dungeon.
Players can try to complete more quests to earn enough Salvage Keys and Deep Dive Keys in Destiny 2. And you can also Buy Destiny 2 Silver to unlock good weapons or items for characters in the latest season.