Diablo 2 Resurrected: Players Should Learn Some Necessary Tips When Conquering Endgame in D2R
Date: 2021-11-24 08:30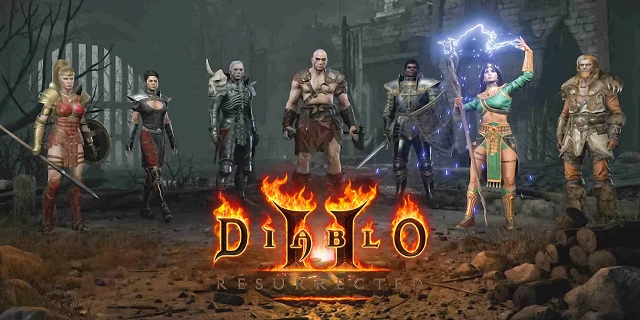 Most players may meet difficulties when they are going to conquer the endgame in Diablo 2 Resurrected. It is hard for players to conquer the endgame without guide. So, players need to learn some necessary tips for preparing for completing hard quests in this game. Moreover, players can buy D2R Gold to find some essential potions or items for character in the process of questing in Diablo 2 Resurrected.
Players Can Create Mules to Avoid Selling Loots
Although Diablo 2 Resurrected will offer players with a large amount of Stash size and Shared Stash tabs, they are not enough for the loots drop from bosses in the Hell. Players will get different tiers of Gems or Runes as rewards from beating bosses, and some other valuable Unique items. 
So, players can choose to create mule characters to avoid the problems of selling some important items. These mule characters can be used to take up the items that have more large room in the inventory. These items usually take up six or eight slots in the inventory. However, players may feel confused about the belonging of each items in the inventory, they should remember each items in advance.
Players Can Try to Walk Instead of Running in the Process of Quests
Most players are willing to run in the process of quests in order to reach the destination quickly. But it is not a good choice in Diablo 2 Resurrected. This game has a risk or reward system for the fast movement. Players will affect with the low block chance and invalid defense in the battles. 
It is a lethal drawback for players in Hell difficulty. If players walk kin the process of questing, they may not influenced by the hidden debuff but move slower than running. Some players will try to set up the walk speed modifiers on their gears to control the pace of walking. On the other hand, if players have the ability of Teleport or the Enigma Runeword, they can deal with these problems easily. They can have both speed and survivability in the process of questing. So, players are eager to obtain the Enigma Runeword in the game.
Players Can Make Characters away from A Stun-lock
When it comes to survivability, if a character is hit by bosses deeply, they may be recovered gradually themselves. If the enemies continue to hit hard, it may cause a stun-lock for character. So players want to know some methods to deal with this situation.
Players can choose to swap weapon sets for character in the battles. They can set up a special button to control the choice of weapon sets. When your characters are stunned or wait for recovery from a hit, you can press swapping weapon sets button. They can be rescued by this mechanic. Then, you can change back the the most optimal weapon set. 
Players can Stack Potion Duration
Most players only choose to use a potion when they are hit or need recovery. However, there is an effective way to use potion before the battles. Because potion duration can stack up for long time. For instance, players can chug down several of Stamina Potions to add up duration.Just like life and mana potions, players can also use them in advance in the battles against bosses in order to keep safe in the battles.
Players Can Upgrade Gem Shrine Timely
When it comes to Gem Shrine, players who are good at finding it will be happy to meet it in a random map. However, in other cases, they may usually offer players gems of random tier or color. In addition, players will be offered a high tier gem if they have only one gem in their inventory. 
If you expect to have a good experience in the endgame of Diablo 2 Resurrected, you should learn some necessary tips to use them in the battles. And you can also BUY Diablo 2 Resurrected Gold to purchase better weapons or armor for your character in order to keep survive in the fights. Cheap Diablo 2 Resurrected Gold is sale on z2u.com.