Diablo 4 Season 1 Guide: How to Obtain and Farm Wrathful Hearts in Diablo 4
Date: 2023-08-12 08:34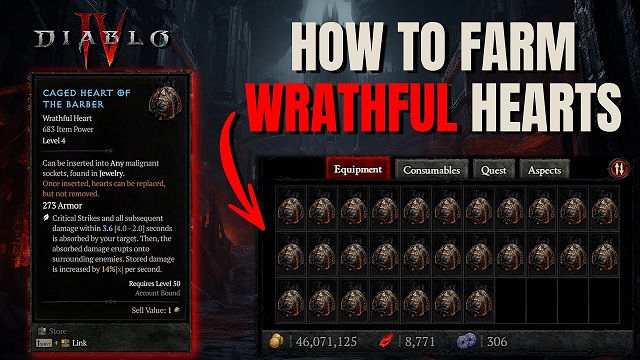 Many players have joined in Diablo 4 Season 1, and they begin to build the new character for the season. So, they are also looking for good items to upgrade their character. When it comes to Wrathful Hearts, they are the rarest and most powerful Malignant Hearts in Diablo 4 Season 1. Do you want to know how to obtain and farm Wrathful Hearts in Diablo 4? You can read this article and learn from the guidance. Players can use Cheap D4 Gold to level up weapons and gears quickly, which help character conquer more dungeons in the game.
What are Wrathful Hearts in Diablo 4?
Wrathful Malignant Hearts are some of the most powerful items you can equip on your build in Season 1 of Diablo 4. There are eight of them in the game, and they all give your character a new bonus depending on what class you are. Some of them are universal for all classes while others are specific to certain classes. 
How to Get the Wrathful Hearts in Diablo 4
Uncertain Hearts
The two main methods you are likely going to encounter Wrathful Hearts in Diablo 4 are via the Invokers or random heart chances. Uncertain Hearts are your gamble of Season 1, somewhat acting like the Obol gambling from the Purveyor of Curiosities. You can spend 20 of each type of Ichor (Brutal, Devious, Vicious), and it will grant you a random Heart form the full list of 32 Malignant Hearts in Diablo 4. However, they are weighted, as some of the Malignant Hearts are super rare, and only drop under certain World Tier setting, typically in World Tier 3, then a few are World Tier 4 only. So, the chances are actually a lot lower. We recommend saving these rolls for one you beat the "Cathedral of Light Capstone Dungeon" iconCathedral of Light Capstone Dungeon and ascend to WT3 at the earliest. That way, you can find some of the WT3 options in the pool, and adding an extra Wrathful to the available pool shrinks the odds away from the other hearts somewhat.
Defeat random Elite Malignant enemies
If you defeat tough Malignant enemies like Elites and Super Elites, there is a chance that they could drop a Wrathful Heart. You can find Malignant enemies all over the map in Season 1, but the best way to search for Elite Malignant enemies is by speeding through Malignant Tunnels and looking out for the 'Malignant' name above the monsters. The Ravening Pit seems to have the highest chance of containing Elite Malignant enemies who might be Wrathful.
If you don't have a Wrathful Invoker to use at the end of a Malignant Tunnel, it's best to just run through looking for Wrathful enemies, then leave when you kill them or confirm there are none to kill. Then, either reset the dungeon from the map menu, or head on out and check another Malignant Dungeon to search for Wrathful enemies.
How to Farm Wrathful Hearts in Diablo 4
Players who have already completed The Cold Hard Truth quest line will not be able to attempt this method—the snowy dungeon is integral for Heart farming.
But if you've reached the quest and haven't yet touched it, just head straight through the Caves of Velkhova dungeon toward the Varshan the Consumed boss. Take care to kill the Wrathful Arctic Bear, which has a chance of dropping an additional Wrathful Heart, located in front of the boss door.
Then, after speaking to Cormond, summon and destroy Varshan. The boss will drop Varshan's Heart, a guaranteed Wrathful item. Once it does, avoid talking to Cormond again, since this will officially end the quest, Rob2628 says. Instead, leave the dungeon, reset it (or if that's not an option from your main menu, leave the game entirely), and log in with your Season 1 character.
If you are also looking for good ways to get the Wrathful Hearts in Diablo 4, you can experiment the guidance and get them quickly in the game. And you can also Buy Diablo 4 Gold to unlock powerful weapons and gears for characters in the game shop.