FIFA 23 Best Formations and Custom Tactics Guide: 4231 Custom Tactics in FUT 23
Date: 2022-09-30 08:40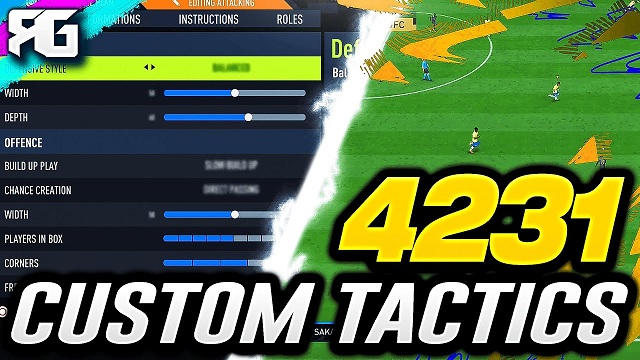 Many players are going to play FIFA 23 Ultimate Team mode nowadays, they select the best players for each position of the team and want to win more matches in FIFA 23. At the same time, you need to determine the best formations and custom tactics for your team. In this article, we will recommend the 4231 Custom Tactics for FUT 23. Players can use FUT 23 Coins to buy more player packs or equipment for upgrading players in FIFA 23.
FUT 23 4-2-3-1 Custom Tactics
Pros:
A great foundation formation that you can use at the beginning of games or when you've built up a lead and are looking to steadily see out the remainder of a game.
Impressive defensive cover from CDMs who can help to shield your centre backs and protect your backline.
Cons:
Can lack width without energetic fullbacks.
Requires attacking midfielders to get in the box and make runs in order to support lone striker.
Defence :
Defensive Style: Keep Defensive Style as Balanced.
Width: 47. The width should be 47.
Depth: 66. We are just trying to play a high line with 66 depth because it seems to work very well this year.
Offence :
Build Up Play: Build Up Play should be Balanced. Just to ensure that the buildup is neither too slow nor too fast.
Chance Creation: Forward Runs or Balanced. Chance Creation should be Direct Passing. Seems to be working very well this year. Especially if you have pace on the striker.
Width: 54. 54 Width seems to work fine offensively. You might try to make it wider with 60 width. It will also work properly.
Player in Box : 6. Players in Box should be 6.
Corners: 2
Free Kicks: 2
FIFA 23 4231 Players Instructions:
GK: Comes to Crosses – Sweeper Keeper
RB: Stay Back – Ideal Warkrate: H/M
LB: Stay Back – Ideal Warkrate: H/M
CB: All Default – Ideal Workrate: M/H
CDM: Stay Back – Cut passing lanes – Cover Center – Ideal Warkrate: M/H
CDM: All Default – Ideal Warkrate: M/H
CAM: Free Roam – Ideal Warkrate: H/M
RM: Come back on defence – Ideal Warkrate: H/M
LM: Come back on defence – Go into to box for cross – Cut inside – Get in behind – Ideal Warkrate: H/M
ST: get in behind – Ideal Warkrate: H/M
How to Play 4231 Custom Tactics in FUT 23
The 4-2-3-1 is a very balanced tactics. It gives your team a good shape defensively while giving you width and options in offense. If you are trying to  play the 4231 you need to be patient. Play the ball around. Wait for the moment when your striker makes a run or gets into position.
So basically you have to avoid passing the ball immediately to the striker. If you involve him too much in the build up he wont make those runs. You can try to make manual runs with him so pull the defenders into the box giving the CAM a bit of pace.
Free Roam on the CAM means he might drift wide or stay central depending on the situation. Sometimes the CAM makes a wide run into the box which can be super useful if you could lob it to him at the right time.
Through balls to the striker will be your meta and that is why you need a fast striker. Someone who could outrun the defenders in a ball chase.
If you have built a pretty good team in FUT 23, you can try to experiment this 4231 Custom Tactics for your team. It may help you control the pace of matches and keep offensive on the field. You have more chances to score more goals in the match. Meanwhile, if you need add more player to your team, you can Buy FIFA 23 Coins to purchase good players from Transfer market. It is important to keep team competitive in FUT 23.