FIFA 23 Midfielders Guide: How to Select Best Midfielders in FIFA 23 Ultimate Team
Date: 2023-06-20 08:49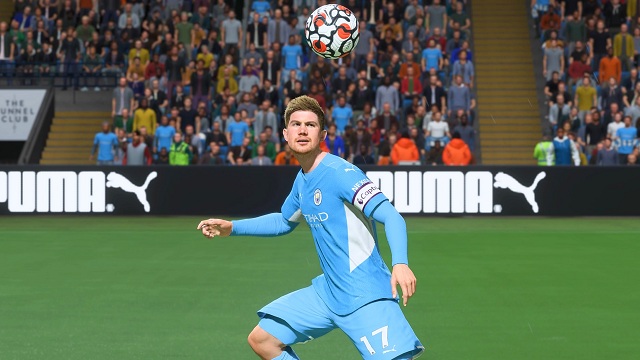 When players are playing FIFA 23 Ultimate Team, they are going to build the best team consists of best players. Some players are willing to choose the best strikers for their team at first. While, you don't ignore the importance of midfielders as well. If you want to add strong midfielders for your team, you can consider these mentioned players in this article. Players can use Cheap FUT23 Coins to add good midfielders to your team and win more matches.
How to Select Best Midfielders in FIFA 23 Ultimate Team
Kevin De Bruyne
If we were to pick the best goal-maker in this list, De Bruyne would easily stand at the top spot. Boasting the highest Passing stats among his fellow midfield talents, De Bruyne is incredible for creating chances in FIFA 23. There's one thing that needs to be taken into account, however, his rather lower Pace.
If you need a fast playmaker, Modric will serve you much better, but the Belgian international's talents lie elsewhere. If you want to dominate the midfield area of the pitch without running for attacks with your central players, then De Bruyne's powerful FUT card is worth every coin you pay for him.
Luka Modric
Croatian superstar Luka Modric is arguably the best midfielder the world has ever seen. Standing shoulder-to-shoulder with Kevin De Bruyne when it comes to creating chances, and with a 97-rated Passing ability, he can easily turn strikers into invaluable goal-machines with his phenomenal assists. Even when it comes to defensive duties, Modric is still among the top players on the list, which makes him a top choice for La Liga-based teams. He isn't as expensive as some other acclaimed players, either.
N'Golo Kante
N'Golo Kante is revered as one of the best and hardest-working midfielders the sport has ever seen. The French international and Chelsea player fits perfectly into the center-defensive midfielder role with great lockdown stats.
Kante is an 89 in FIFA 23. He has 87 overall Defense with 95 Stamina and a high Defensive work rate. You can count on him to run the entire length of the field for a full 90 minutes, with no substitution needed. On the ball, he has decent Dribbling at 81 with 74 Passing. Kante is the man for the job if you want a ball-winner on your team.
Toni Kroos
Toni Kroos is the definition of a playmaker. The German superstar plays for Real Madrid in Spain and keeps the pace of play moving in the attacking third of the field, as well as lending a hand defensively.
Kroos is an 88-rated center-midfielder. He runs the middle of the park with pinpoint 90-rated Passing and 81 Dribbling. That's not all — an 86 Long Shot means Kroos can score from outside the box with a bit of space. Short and Long Passing are each at 93, making him one of the best passers in FIFA 23.
Frenkie De Jong
De Jong is an outstanding midfielder representing La Liga powerhouse Barcelona. He is also part of the Netherlands national team. De Jong is a dynamic midfielder who has amazing control over the ball. But that is not all. He is also very apt at dribbling, insight, good defensive positioning, plus offensive skill.
Somewhere around 2015, De Jong started their official debut at Willem II. He moved over to Ajax. Following capturing a national double before making the entire way towards the Champions League semifinal. Very often, fans and officials call him the top most promising midfielders in all of Europe.
Leon Goretzka
German pro footballer Leon Christoph Goretzka represents both the German national squad. He also plays for the Bundesliga infamous club Bayern Munich. His primary position is as the team's midfielder. He had his professional debut back in 2012 alongside the VfL Bochum.
Interestingly, he ended up playing upwards of 100 Bundesliga games for Schalke. Yes, we are as shocked as you! He stayed on the team for quite a while before joining Bayern Munich in 2018. You may not know the following, but Leon also competed for the German Olympics team!
We have listed several best midfielders in this article. Players can add one of them to your Ultimate Team in FIFA 23. While, some famous players are not easy to get. You had better Buy FIFA 23 Coins to get them from the transfer market, which will improve the potency of your team in the match.