FIFA 23 World Cup Mode Guide: How to Get Free World Cup History Makers Item in FIFA 23
Date: 2022-11-11 09:01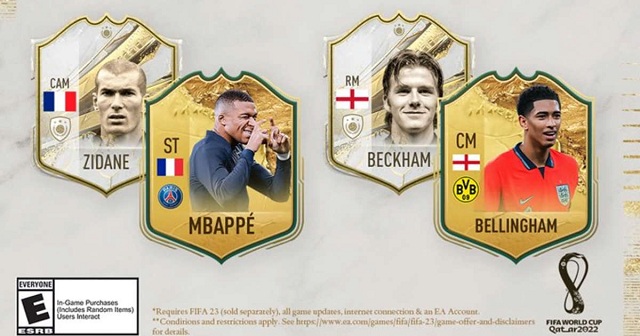 Most football fans are waiting for the advent of the World Cup Qatar 2022, now you have access to experience the World Cup competition in FIFA 23. The developers introduce the World Cup mode to FIFA 23 Ultimate Team, and players can play matches with their desired national teams or predict the results of World Cup matches in the prediction system. In the FIFA 23 World Cup Mode, players have access to get free World Cup History Makers item. Are you interested in the World Cup Mode? You can read this article and learn from the guidance. Players can use FUT 23 Coins to unlock more FIFA 23 World Cup Players in the transfer market, who will bring boosts to your team during the World Cup Qatar 2022.
What are World Cup History Makers?
FIFA World Cup History Makers Card is another brand-new card type for Ultimate Team! FIFA World Cup History Makers items will be coming to FUT, with Kylian Mbappe and Jude Bellingham revealed as mini-cards with a new design.
FIFA World Cup History Makers Card means "a FIFA World Cup History Maker player item celebrates current international players who are set to have a key role for their country at the FIFA World Cup 2022."
The History Maker players will also receive two upgrades, with one upgrade on Friday, 13 January, and the second upgrade on Tuesday, 14 February.
The List of FIFA World Cup History Makers:
Zinedine Zidane and Kylian Mbappé - France
Robin van Persie and Virgil van Dijk - Netherlands
Diego Forlán and Federico Valverde - Uruguay
Luís Figo and João Félix - Portugal
David Beckham and Jude Bellingham - England
Rudi Voller and Kai Havertz - Germany
Clint Dempsey and Christian Pulisic - USA
Xabi Alonso and Pedri - Spain
Hidetoshi Nakata and Wataru Endo - Japan
Michael Essien and Jordan Ayew - Ghana
Rafael Márquez and Raúl Jiménez - Mexico
Saeed Al Owairan and Salem Al Dawsari - Saudi Arabia
How to Get Free FIFA 23 World Cup History Maker Cards in FIFA 23
Players will have to do is play the game at least once on or before January 3. The title will then unlock a World Cup History Maker card pack that can be found in the in-game store. Thankfully, EA Sports has made getting the item very simple, and players will have to indulge in very little gameplay to receive the reward.
The special card will be granted between December 23 and January 3. Eligible players will subsequently be able to get it from the store. EA Sports has also briefed fans as to why the card will be special: it will offer two sets of upgrades. These are going to be made available in batches, with the first one coming in January.
And players can simply visit the EA World Cup prediction page, log in, and make your prediction. After doing this, "three Limited Time FIFA World Cup Player Items" will be added to your FIFA 23 Ultimate Team squad when the event goes live. Players can also receive some end-of-event rewards by leveling up. Players will also be able to grab some World Cup-themed Swaps.
What an amazing World Cup Mode in FIFA 23 Ultimate Team. Players have access to play their favorite national teams against opponents and enjoy control the best players in the team. While, if you want to get some other World Cup items in FIFA 23, you can Buy FIFA 23 Coins to select what you desired in the game-shop, and enjoy yourselves in the World Cup matches.