Genshin Impact Dori Build Guide: Best Weapon, Best Artifacts, Best Team for Dori Build
Date: 2022-09-19 08:41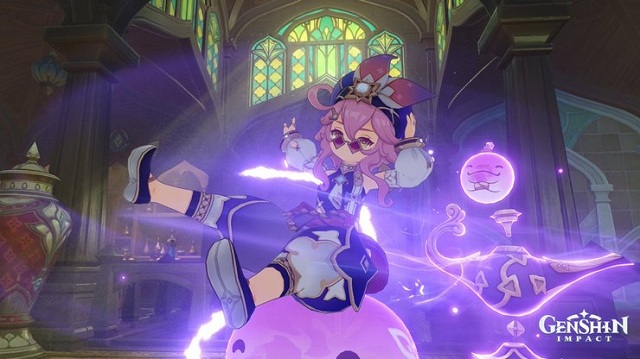 Many players have joined in the world of Genshin Impact 3.0. They have access to open the new storyline of Sumeru Region and experience the new characters in the game. One of these new characters is called Dori. Players want to know how to build the best Dori in the 3.0 version and enhance the competence of team in battle. You can learn the guidance from reading this article. Players can use Genshin Impact Crystals to purchase their desired gear for leveling up characters fast in Genshin Impact 3.0.
What's Dori in Genshin Imapct 3.0?
Dori was the second four-star character to release for Sumeru. She has an interesting attack style as she doesn't fight enemies herself. Instead, she uses an Electro vision, coupled with a genie who swings around a claymore for her.
How to Build the Best Dori in Genshin Impact
Best Dori Healer Build
Dori is a support character at heart, strengthening her allies with her Jinni's HP and energy regenerating tether. As such, you'll want a build that maximises her healing and the buffs she can offer with her burst.
Best Weapon for Dori: Favonius Greatsword
Figuring out the best Dori weapon is a bit tricky, given how claymore stats tend to skew towards attack. However, the Favonius Greatsword is Dori's best choice thanks to its benefits to energy recharge. This claymore has lower attack, but energy recharge is its secondary stat and, at 13 percent, it's the highest recharge stat among all the greatswords. The passive skill generates more energy particles with critical hits. If you have a spare Skyward Pride laying around, that would technically be the most versatile choice for Dori. Its secondary stat increases energy recharge, and the passive skill boosts all damage by 12 percent.
The Sacrificial Greatsword is another solid choice. This one also has energy recharge as its secondary stat and a high chance of ending your elemental skill's cooldown timer after you use the skill.
Best Artifacts for Dori: Noblesse Oblige
Dori's best artifacts are once again a simple affair. Like many elemental support specialists in Genshin Impact, you'll draw out her best performance with four pieces from the Noblesse Oblige set, which adds +20% to her Elemental Burst DMG and (crucially) boosts her whole party's ATK by 20% for 12 seconds after she deploys her burst.
If you're looking to mix it up a bit, with a focus on providing Dori with some well-rounded boosts, try equipping two pieces each from Emblem of Severed Fate (grating a +20% to Energy Recharge) and Tenacity of the Millelith (granting her +20% to her base HP, which will help her scaling when healing her teammates).
Circlet of Logos: Healing Bonus
Sands of Eon: Energy Recharge
Goblet of Eonothem: HP
Substats: HP, CRIT rate, Energy Recharge
Best Team Composition for Dori
Dori wants to take the backseat and just fire stuff from her lamps and let the others do the talking with their swords. As the provider, she's mostly going to be a support character. However, she's not just your typical support character. The highlight of her kit is that she's going to be able to provide energy to the characters straight from her elemental burst. All in all, Dori is going to be a character that's going to be able to fulfill specific roles in teams that use characters with high energy requirements for their bursts.
For team compositions, Dori can be very flexible and might be able to fit in any team that might need more energy. An example team composition that includes Dori is going to be a mono electro team.
Raiden
Yae Miko
Venti
Dori
In this team composition, you mostly want to have everyone's elemental burst out as soon as they're off cooldown as this team is going to almost always have them up. Venti is here to group people while Raiden provides massive damage with Yae Miko and Dori supporting her.
If you are lack of the Healer character in your team, you can try to build the best Dori healer in Genshin Impact. You can adopt the guidance and level up Dori fast in the team. You can Buy Genshin Impact Genesis Crystals to get good weapon or gear for dori, which protect her well in the battle against enemies in the process of exploration in Sumeru Region.