Fortnite Chapter 3 Season 4 Paradise: Release Date, New Skins, and Everything We Know
Date: 2022-09-20 08:41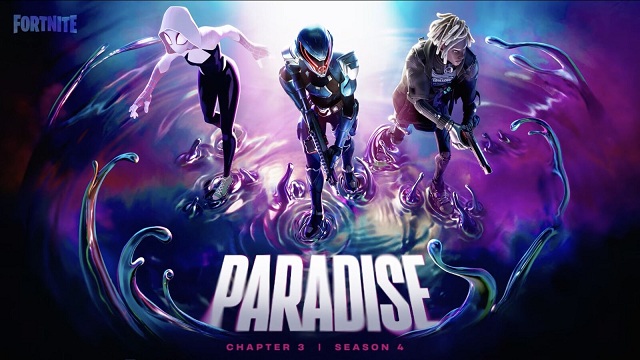 Players have experienced the chapter 3 season 3 for a long time in Fortnite. And it is time to welcome the update of season 4 Paradise. They are curious about the latest season of Fortnite, and expect to know more about this update. If you are interested in playing Fortnite, you can read this article for more information. Players can get Cheap Fortnite V-BUCKS to unlock more good skins for your character in the new Season 4. 
Release Date of Fortnite Chapter 3 Season 4
The release date for Fortnite Chapter 3 Season 4: Paradise is Sunday, September 18th, 2022. According to a recent Epic Games blog post, server downtime is expected to start at approximately 2AM ET / 7AM BST.
Fortnite Chapter 3 Season 4 Battle Pass Skins
The Fortnite Chapter 3 Season 4 Battle Pass allows you to add Spider-Gwen, Grriz, Lennox Rose and Paradigm to your collection, among others.
Following the new tradition started in the past three seasons, these skins are divided across a selection of Battle Pass pages and unlocked by either claiming a certain number of rewards or reaching a specific Battle Pass level. Upon unlocking a page, the skin or variant is collected by earning Battle Stars from increasing your Battle Pass level and using them to unlock all of the other rewards on the page first.
For Twyn, for example, you need to either reach Level 70 or unlock 60 rewards from the Battle Pass to unlock his page. Next, you need to earn all of the rewards on Page 8 to unlock the ability to earn Twyn.
Map Changes in Fortnite Chapter 3 Season 4
The first massive change in the new map is that the Reality Tree has been destroyed. This means that the Reality Tree biome and Reality Roots are likely entirely gone, or just husks.
New Locations:
The named locations that were transformed by the Reality Roots are now completely gone. Instead of returning their Chapter 3 Season 2 (or prior) state, they are now something else entirely. While the Reality Tree has been destroyed, Reality Falls still exists. The mushrooms still exist, as well. While they are withered husks, you can still find the ones to jump on to gain a little extra shield.
The new named locations are:
Lustrous Lagoon
Herald's Sanctum
Shimmering Shrine
Fort Jonesy
Cloudy Condos
One change to the map that's sure to get old-time Fortnite fans nostalgic is the return of the original Loot Lake house. For some time now, Loot Lake has basically just been a big lake with bits of loot dotted around it, but when it was first introduced, it was a big house in the middle of a lake that was a popular spot to fight for loot. Now it's returned to that original form, with the original house front and center.
New Contents in Fortnite Season 4
Fortnite Chapter 3 Season 4 also has a variety of new playable content to be found in-game. There are multiple chrome-themed weapons, a chrome consumable that transforms players into a blob when they sprint, and chrome chests to open. These chests will be locked in special areas that require chrome keys to open. Some general gameplay changes have also been made, like how sliding into an enemy will now knock them back, and riding a boar or wolf will allow players to pet them.
Many players can't wait to joining in the Fortnite Season 4 and starting completing quests in the game. If you want to unlock new battle pass skins for your character, you can Buy Fortnite V-BUCKS to purchase them from the shop and try to improve the levels of Battle Pass at the same time.