Genshin Impact Freminet Guide: Best Weapon, Artifacts and Team for Freminet in 4.0 Version
Date: 2023-09-07 08:50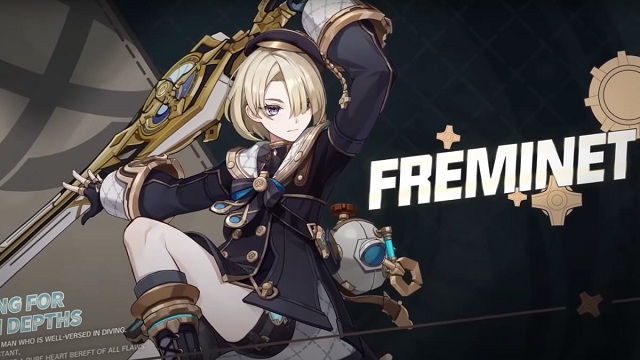 In the latest Genshin Impact 4.0 version, players are happy to welcome the addition of the region of Fontaine and new characters. They have access to explore more interesting areas and collect more item drops. One of the new characters is Freminet. Many players are wondering how to build the best Freminet in Genshin Impact. You can read this article and learn from the guidance. Players can get Cheap Genshin Impact Crystals and unlock new characters for your team in the banner activity.
The Freminet Character in Genshin Impact 4.0 Version
Freminet is a claymore user and a Cryo Main DPS character in Genshin Impact 4.0. He can be built as a hybrid DPS who can specialize in Physical and Shatter reactions. 
How to Build the Best Freminet in Genshin Impact 4.0 Version
In Genshin Impact, players have the flexibility to experiment with various playstyles, including building Freminet as a Cryo DPS. However, the most effective way to utilize him is as a Physical DPS due to its higher scaling modifiers. With the right build and investment, Freminet can indeed have the potential for significant damage output, even rivaling Eula with the appropriate setup and a bit of luck.
Best Weapon for Freminet in Genshin Impact 4.0 Version
Song of Broken Pines (5-star)
A part of the Millennial Movement that wanders amidst the winds. Increases ATK by 16%, and when Normal or Charged Attacks hit opponents, the character gains a Sigil of Whispers. This effect can be triggered once every 0.3s. When you possess four Sigils of Whispers, all of them will be consumed, and all nearby party members will obtain the Millennial Movement: Banner-Hymn effect for 12s.
Millennial Movement: Banner-Hymn increases Normal ATK SPD by 12% and increases ATK by 20%. Once this effect is triggered, you will not gain Sigils of Whispers for 20s. Of the many effects of the Millennial Movement, buffs of the same type will not stack.
Beacon of the Reed Sea
After the character's Elemental Skill hits an opponent, their ATK will be increased by 20% for 8s. After the character takes DMG, their ATK will be increased by 20% for 8s. The 2 aforementioned effects can be triggered even when the character is not on the field. Additionally, when not protected by a shield, the character's Max HP will be increased by 32%.
Best Artifacts for Freminet in Genshin Impact 4.0 Version
4pc Pale Flame (4PF) – The best set for Physical Freminet. Because he spams his Skill so often, Freminet has no trouble stacking and maintaining the 4pc effect.
4pc Blizzard Strayer (4BS) – The best set for Cryo Freminet. Because Freminet is a Claymore user, he will constantly proc Shatter, which removes the Freeze status from enemies. This means he can't fully take advantage of the 4pc CRIT Rate buffs, but 4BS remains his best set.
Best Team Comps for Freminet in Genshin Impact 4.0 Version
Some great team comps for a Main DPS revolve around setting up the perfect scenario for Freminet. Firstly, being a rare example of a Physical DPS buffer, Mika is a necessary pick to have on your team. This will help increase Freminet's damage output by a huge amount. Next, players will want a strong Hydro character, like Mona or Yelan, which will allow for strong Freeze Reactions setup.
Finally, players can choose their favorite Sub DPS, though Fischl is a powerful choice here. Next, for a Cryo build team, Shenhe is an amazing choice to Sub DPS for Ferminet. Next, players should include a Hydro character, to take advantage of Freeze Reactions as well. Finally, a shielder like Zhongli would be a strong pick to add some bulk to Freminet. Overall, these team comps help take advantage of Freminet's best builds in Genshin.
Players who want to build the best Freminet in Genshin Impact 4.0 version can experiment the guidance in the game. And you can also Buy Genshin Impact Genesis Crystals to collect upgrade materials for characters in the game.