How do you get easy unlimited super wheelspins in Forza Horizon 5
Date: 2021-11-22 09:06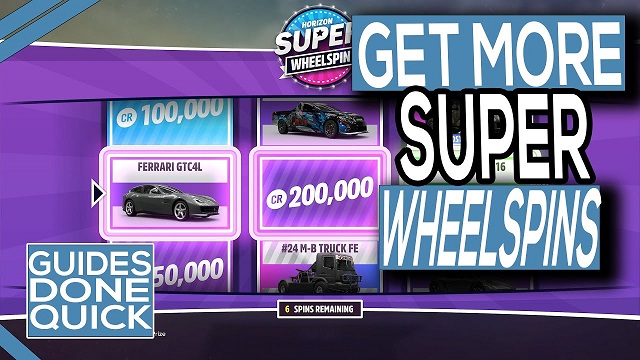 To help you get fast, quick and easy unlimited Super Wheelspins in Forza Horizon 5, which is the reason that we write this article! If you are interested in this topic, just keep reading!
How to get more Super Wheelspins in Forza Horizon 5
The most reliable way to get a Super Wheelspin in Forza Horizon 5 is by spending Skill Points on a vehicle that allows you to buy a Super Wheelspin. You can buy a Super Wheelspin once per vehicle, but you can buy as many vehicles of the same kind as you wish, and each will have a unique Super Wheelspin to purchase. Now it's just a case of finding a car that allows you to buy a Super Wheelspin fairly cheaply and get a lot of Skill Points to buy them with.
The second method of unlocking free Super Wheelspins is cars. Every vehicle you own unlocks points that can be used to upgrade different aspects of the car. Some of these cars provide Super Wheelspins as part of the rewards you can unlock. This is not a complete list but here is a list of cars with Super Wheelspins. Whenever you get a new car open the Car Mastery menu and check if any Super Wheelspins are available.
2019 Aston Martin DBS Superleggera (Epic)
2018 Bugatti Chiron (Legendary)
2020 Chevrolet Corvette Stingray Coupe (Rare)
1969 Dodge Charger R/T Forza Edition (Forza Edition)
2010 Lamborghini Murcielago LP 670-4 SV (Legendary)
2010 Lexus LFA (Legendary)
2019 Mclaren Senna (Legendary)
2012 Mercedes AMG Mercedes-AMG One (Legendary)
2020 Toyota GR Supra (Legendary)
2014 BMW M4 Coupe (Rare)
Alpine A110 (Festival Reward)
The more Player Houses you buy, the more free Super Wheelspin unlocks you can get. Some even give more than one! La Casa Solariega will give you 5 Super Wheelspins in one go whereas Hotel Castillo and Buenas Vistas will give you 2. Houses provide players with one to five Super Wheelspins. We recommend purchasing one, in particular, namely La Casa Solariega, which offers five Super Wheelspins to unlock by spending points. This property will set you back 1.5 million credits. Alternatively, Buenas Vistas and Hotel Castillo offer two Super Wheelspins each.
Buy Super Wheelspins from the Forzathon shop – You can purchase them by using Forzathon points. Players can earn Forzathon points by participating in the daily, weekly challenges and by also completing the Forzathon challenge.
As we mentioned above, you can also use Forza Horizon 5 Credits to purchase super Wheelspins. If you do not have enough FH5 CR, come and browse Z2U.com and you can find the best offers here!