How to Imbue items in Diablo 2 Resurrected, and When to Imbue items in D2R
Date: 2021-10-28 08:51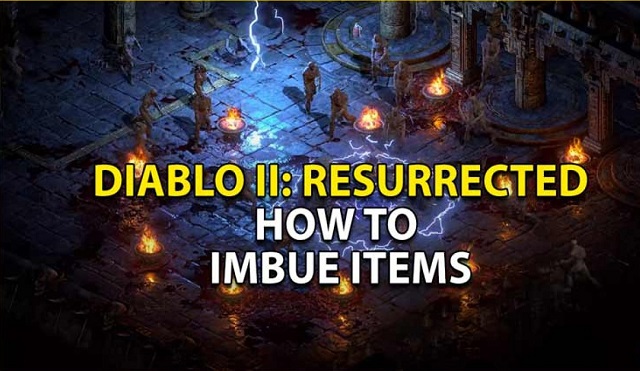 This article is going to talk about everything about Imbue items in Diablo 2 Resurrected, including what does Imbue do and how to get Imbue Items and when to imbue items in D2 Resurrected, if you are interested in, you can keep reading!
What does Imbue do in Diablo 2 Resurrected?
Imbuing items in Diablo 2 Resurrected turns a common item into a rare item, granting it random magical properties. You should save your imbue for very high-level white items like Diadems to get the most use out of it. Some other options may be Sorceress orb weapons, Druid Pelts, and similar class-specific items. The bottom line is that the imbue becomes more useful the longer you save it because the higher-level items will have better stats. Many players would argue that the common Diadems are one of the best uses since they can roll plus skills and other great magical properties. If you want to use your imbue early in the game, try using it on a class-specific item.
How to Imbue Items in D2R
You can imbue items in D2R by completing the quest Tools of the Trade in Act 1. In this quest, you have to retrieve Horadric Malus for Charsi. Here are the steps for completing the Tools of the Trade quest:
·Go to Outer Cloister in Act 1.
·Enter the Barracks.
·Find the room guarded by the Smith.
·You can either ignore the Smith or defeat it.
·Search for the Horadric Malus in the room that was guarded by the Smith. Horadric Malus is an enchanted hammer used by Charsi.
·Once you retrieve the hammer return to Charsi.
If you do the above steps correctly you should complete this quest and Charsi will allow you to imbue any one item or weapon of your choice.
When to imbue items in D2R
Of course, you're able to keep the imbue of all difficulties for a total of three (one for each, these being Normal, Nightmare and Hell). It's recommended that you either wait until you're high level, or if you really want to take your chances earlier than that, it's best to use this mechanic with a class item.
Since you never know which attributes you'll obtain, there is a risk/reward element in play. All the previous attributes from an item will be replaced as well, so keep that in mind.
As for what to imbue in Diablo 2, both Exceptional and Elite items are both great options. In addition, imbuing Diadems in Diablo 2 is also a good option - these are a specific type of helmets that are excellent at providing attributes.
When paired up with Charsi's imbue option, you can get some decent results. Of course, luck will have to be on your side. But the more patient you can be, the better.
If you are playing this exciting game, D2R Gold is an essential element you cannot ignore! Z2U.com is the best place to purchase D2R Gold, cheap, safe, fast, 24/7!