Inspired by Rocket League, Beat Games gets new xMonstercat DLC
Date: 2019-11-12 08:32
On November 8th, Beat Games officially released "Beat Saber" new paid DLC: Rocket League xMosntercat music package, this DLC contains 6 songs. This is the second time that Beat Games has teamed up with Monstercat. The collaboration was inspired by the racing football theme game Rocket League.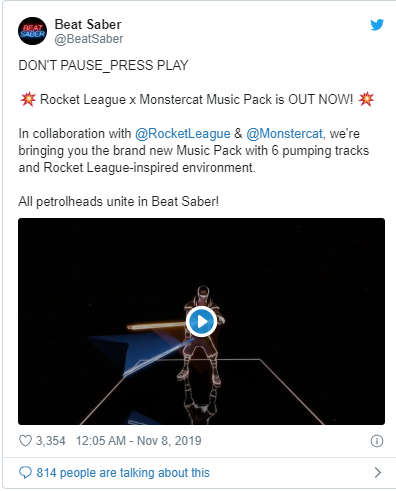 It is understood that Rocket League is an online game developed by independent game studio Psyonix. It is characterized by combining racing and ball sports, and adding visually bright elements such as rocket power flight, physical effects, special dress, and play.
The Rocket League xMonstercat music package differs from the previous DLC in that it not only brings exciting new football-themed music, but also a new interface look that looks pretty cool. Players who purchase this DLC will also receive two custom items (Topper and Booster) for free, the special Beat Saber box.
To go along with the tracks, the music pack is also adding a new beat-slashing environment inspired by Rocket League, which features goalposts flanked by a pair of rocket-powered cars.
Our goal was to connect these three worlds, who have similar values, philosophy and feel the same about the music and its importance in the game industry. Together, we created a tracklist of songs, which are loved by the players around the world and will be a great fit for Beat Saber. Rocket League x Monstercat Music Pack contains six pumping tracks from Rocket League together with brand new Rocket League-inspired custom environment.
All Rocket League xMosntercat DLC tracks include:
·Tokyo Machine-"Play"
·Slushii-"Luv U Need U"
·Stephen Walking-"GLide"
·Dion Timmer-"Shiawase"
·SlushiixDion Timmer-"Test Me"
·TokyoMachine-Rock It
The sounds of Rocket League are best when they're blasting in a soccar arena. That's why a Champions Field-inspired Map has come to Beat Saber! Slash your way through beats in this brand new, custom made Rocket League-inspired environment! Rocket League has cued up two new customization items (a Topper and Boost) featuring the beat blocks from Beat Saber. Just log into Rocket League now to get them as a celebration for our sick beats being part of the VR smash hit! 
As we all know, the new xMonstercat DLC is sold for $8.99 and it is available on all platforms. If you are interested in it, why not turn up in Rocket League and Beat Saber now!