Rocket League Three DLC will be free for all gamers
Date: 2019-11-01 08:32
Rocket League players have benefits, and Psyonix says it offers players the first three DLC packages for free, including Supersonic Fury, Revenge of the Battle-Cars, and Chaos Run. The contents of the DLC package will be distributed to all Rockets players on the platform later this year, which means everyone can use Dominus, Takumi, Battle-Cars, Scarab, Zippy, Ripper and Grog vehicles. Are you looking forward to it?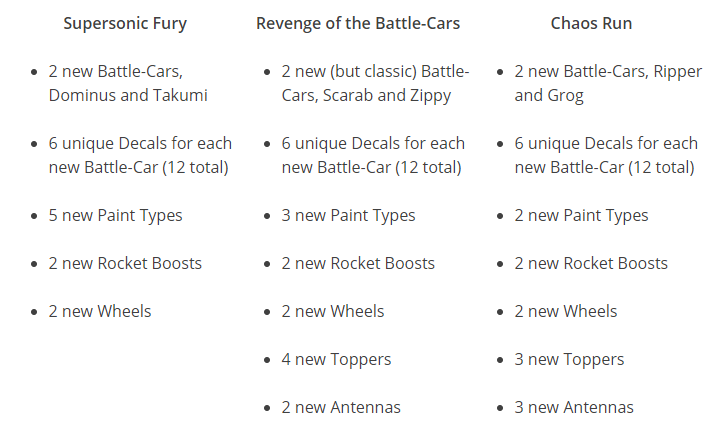 As the content will shortly be available for no charge, the three packs are no longer on sale and the Rocket League Game of the Year Edition that includes the DLC will also be removed from stores. Players who bought one of the packs recently won't miss out though, as they will get a refund if they made their purchase after October 1st this year. As of writing, none of them are available through Steam.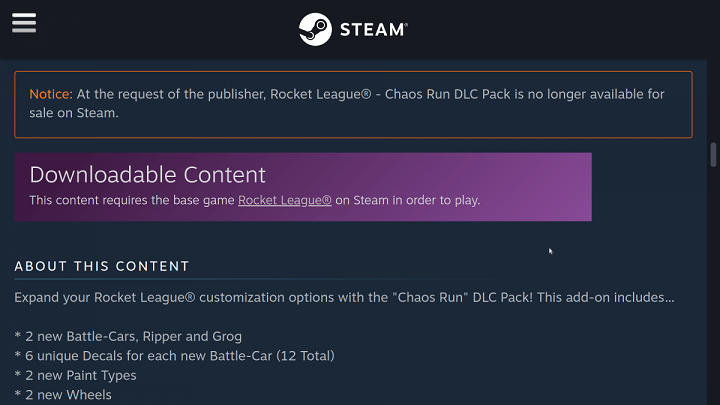 Along with announcing the free DLCs, Psyonix shared information about the latest competitive season, the addition of a new feature for archiving unused inventory items, an annual in-game event that kicks off in December known as Frosty Fest 2019, as well as details about competitive events in Arlington, Texas on November 9 and Madrid, Spain from December 13 to 15.
If you've been rising the ranks during the current Competitive Season 12 in the hopes of earning a shiny reward at the end of the season, prepare for something different. When the season ends, sometime in November or December, Psyonix are giving out Universal Animated Decals.
Rocket League Esports has two electric live events scheduled for before the end of the year. First, the Collegiate Rocket League (CRL) National Championship will take place at the Esports Stadium in Arlington, Texas. Then, the best Rocket League teams in the world will battle it out in the Rocket League Championship Series (RLCS) World Championship in Madrid, Spain on December 13-15. Do you expect for them?
The developer Psyonix says that the correct date of the release of three free DLC will be soon announced. Let's expect for them. For more Rocket League news, please pay attention to reliable game store Z2U.com. We will share the latest news for you here!