Lost Ark Game Guide: Bifrost System And How to Use Bifrost in Lost Ark
Date: 2022-04-07 08:34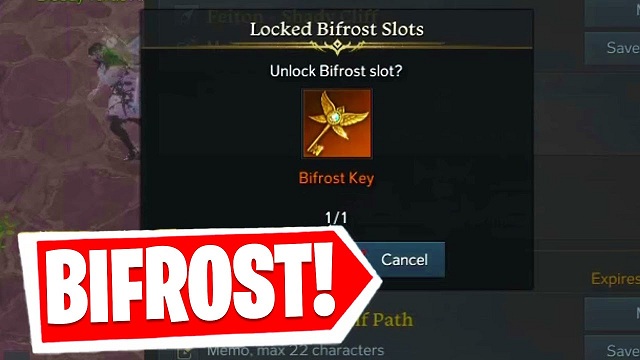 When players have spent a lot of time on travelling around the continent of Lost Ark, they can know the importance of time in Lost Ark. In order to complete quests scattered around different sites, they need to find the way to travel around these site in a short time. Although they have different kinds of Mounts, these Mounts are not allowed to cross the oceans. The Ocean Liners also cost a lot of Slivers. It is time to figure out the Bifrost System in Lost Ark, which is considered as the rainbow bridge teleporter. Additionally, players can choose to buy essential HP Potions for characters by using Cheap Lost Ark Gold, which helps them deal with the dangerous situation in Lost Ark. 
What's the Bifrost System in Lost Ark?
The BiFrost system is a secondary Fast Travel system that allows you to mark areas all over the area of Arkesia that you can "recall" back to at any point.  To access the BiFrost system, just hit (Alt+W) or use the Adventure menu and select the BiFrost Tab.  There are a total of 5 Bifrost Slots.  Two of these are unlocked through your Crystalline Arua Benefits and the other two must be unlocked using Two BiFrost Keys. 
How to Get Bifrost Key in Lost Ark
There are only two Bifrost Keys you can find in the game, and the more common one you can unlock is by receiving Ignea Tokens. You'll obtain these by reaching 100% in Adventure Tome progress in regions throughout Lost Ark. This means you'll have to complete all of the tasks and side activities in a given area, which may take you quite a bit of time.
Another way players will work towards unlocking a Bifrost Key is by progressing through the Roster levels. Your Roster Level will level up alongside your characters as you play through the game, all tied to the same server. Any character you're leveling up on a given server contributes to the Roster Level, and once you hit level 60, you can gain a Bifrost Key.
How to Use Bifrost in Lost Ark
Now whenever you click on Move, you will teleport to that location from anywhere on the Map at the cost of 1000 Silver. After which the Bifrost will have approximately an hour or two of  Cooldown. You can do the same for the other two slots. All players have to do is use Alt+W (by default) and it brings up the Bifrost menu. Then, once they're in a location that they'd like to save and teleport back to at some point, they just click on the "Save Location" button in this menu. Later, when they want to teleport back, as one would assume, all they have to do is click the "Teleport" button on that saved location in the Bifrost Menu, pay a small Silver fee, and they're taken right back.
Crystalline Aura subscribers get an additional two Bifrosts unlocked automatically. As you can imagine, this comes in handy, allowing players to teleport freely to two additional locations anywhere in Arkesia. Considering the sheer number of islands, it may be a good idea to set these in major territories like North Vern, Shushire, Rohendel, Yorn, or any of the major continents. Place them strategically so you can cut down on sailing time between islands.
If players have known how to use the Bifrost System in Lost Ark, they can go to different spots to complete various quests instead of waiting for other transportation. You can also combine it with other methods in order to reach different sites in Lost Ark. Meanwhile, if players are lack of enough money for the cost of transportation, you can Buy Lost Ark Gold to pay for them instead, which will ensure your activities smoothly.