Lost Ark May Update Guide: Slayer Advanced Class, Ebony Cube, Event Guardians and More
Date: 2023-05-12 08:47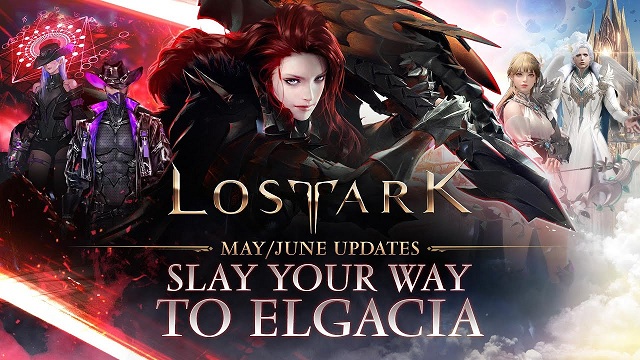 Players who like playing Lost Ark are excited about the Lost Ark May 2023 Update. The game's latest version is called "Slay Your Way to Elgacia," and it offers a ton of change to folks. There are many new contents introduced in the May patch update. If players want to know more information about Lost Ark May Update, you can read this article carefully. Players can use Cheap Lost Ark Gold to select right gears for building the Slayer Advanced Class in the game.
New Contents in Lost Ark May Update
Slayer Advanced Class
The Slayer is the fifth Warrior Advanced Class— a female remix of the Berserker class. A melee warrior who stirs up the battlefield with her greatsword and Burst Mode, this powerful class has the potential to overwhelm anything in her path. 
Successful attacks with the Slayer fill the Fury Specialty Meter, which, when full, can trigger Burst Mode. During Burst Mode, the Slayer's damage and movement speed greatly increase, and a Specialty skill called Bloodlust (unique to the Slayer) can be used to unleash powerful slashes and stabs. In Burst Mode, Atk. Speed, Move Speed, and Crit Rate are greatly increased. (Atk. Speed +20%, Move Speed +20%, Crit Rate +30%). Bloodlust allows you to quickly slash at foes in front of you to inflict Damage, then perform a powerful stab, knocking them away for more Damage. This skill is only available while in Burst Mode and can be used with the [Z] key.
Ebony Cube
A new activity has been introduced called Ebony Cube, which combines the Boss Rush and Cube modes together into one bombastic wave-clearing activity. For players with tickets for Boss Rush or Cube, follow the Lost Ark socials for information on what will happen to those. 
Event Guardians
Players will also earn reward tokens as they hunt Event Guardians, which is a twist on Guardian Raids, and takes place in an arena where the Scales of Balance are applied. Multiple progression events will run in Arkesia simultaneously, allowing the Punika Powerpass and Hyper Express Plus II to launch with the Slayer class, set to run until August 9.
Punika Powerpass
Punika Powerpass will become available on May 10 and will run till August 9 and it will allow you to bring an alternate character into the game after completing the storyline through that continent. Apart from this, you will also receive Item Level 1340 gear. However, keep in mind that only the accounts created before December 14, 2022 will get access to it, and you also need to have a trusted status for it.
Hyper Express Event II
In order to participate in Hyper Express Event II, you will have to designate one character between Item Level 1340 and 1460. The character will earn honing materials to quickly level up to Item Level 1460 and above, and they will also earn rewards like Silver, Gems, Engravings, etc., every 15 Item Levels.
Engraving Support system
As a new feature available with the Hyper Express Plus, the Engraving Support system lets players choose 4 engravings to be in effect at level 3 during the event. Here's how to get started:
After selecting a Hyper Express Plus character, the Engraving Support button will light up.
Click the Engraving Support button to open the Engraving Support page and select your 4 desired Engravings.
Press the Activate Engraving Support button to start using their effects.
The effects of Engraving Support will also be shown in your Character Profile.
Players can pay attention to these new contents in the coming Lost Ark May update. Some activities are attractive in the latest version. And players can also Buy Lost Ark Gold to foster the Slayer advanced class in the team.