Madden NFL 24 Playbooks Guide: How to Choose the Best Defensive Playbooks in MUT 24
Date: 2023-09-13 08:45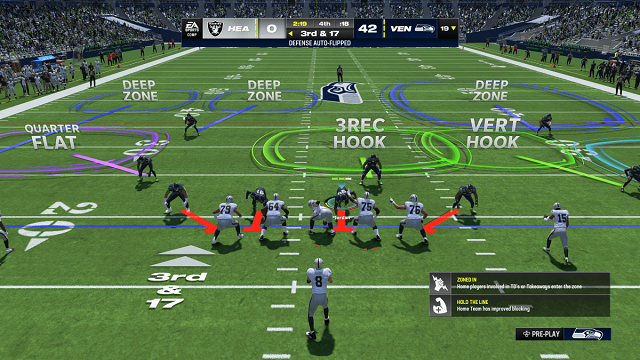 Many players have joined in the competitive matches in Madden NFL 24. They want to defeat more enemies and climb up to high rank board in the game. One of the most important things for teams is using an ideal defensive playbook. Do you want to know how to choose the best defensive playbooks for your team in Madden 24? Players can use Cheap MUT 24 Coins to build the best team in Madden Ultimate Team mode quickly.
Defensive playbooks are more homogeneous than offensive ones. Most defensive playbooks are very similar to one another, with only the base 3-4 or 4-3 formation really dictating how a defense lines up and what sub packages are available. This is a bit outdated now in the era of positionless players and multiple fronts but hey, it's Madden after all.
The best defensive playbook in Madden 24 right now is the 46. This alternate playbook offers a huge range of formations including the most powerful duo in the game, Nickel 3-3 and Nickel 3-3- CUB.
How to Choose the Best Defensive Playbooks in Madden 24
46 Defense
This choice won't be a surprise for many veteran Madden players, as the 46 Defense playbook is still the best defensive set in the game after all these years and it's the only alternate playbook to have both the two best defensive formations ever: Nickel 3-3 and Nickel 3-3 Cub. I also wouldn't shy away from such schemes as Big Nickel Over G and Dollar 3-2, which have some of the smartest zone and blitz formations in Madden 24. There's no other defensive set that would include so many great plays, so don't look any further unless you want to pay homage to your favorite teams listed below.
Kansas City Chiefs
The Kansas City Chiefs boast not just the best offensive playbook in the game, but also one of the best defensive playbooks. The key difference is that their playbook lacks the 3-3 Nickel Cub formation. We know we emphasized the significance of this formation, but the Chiefs Dollar 3-2 formation compensates for it. With the Dollar 3-2, there are a slew of techniques that will put a stop to short-term gains, whether that be a run or pass.
This playbook also includes the Nickel 3-3 and Nickel Over, which are great for covering zones. On top of that, Cloud Flats is the best defensive play you can call on a third and long, which tends to happen a lot. Nonetheless, while the Chiefs have one of the best defensive playbooks in the game, there is another option that includes all these best defensive plays, and more.
Baltimore Ravens
The Baltimore Ravens have one of the most unique playbooks in Madden 24, focusing on speedy linebackers. The Ravens have Nickel formations such as the 2-4, 2-4 DBL MUG, Triple, and 3-3 Odd, which work exceptionally well in blitzing and coverage if you have quick linebackers. This is the defensive playbook to pick if your outside and middle linebackers are the team's playmakers.
Las Vegas Raiders 
The Las Vegas Raiders have one of the most brutal defensive playbooks that any offense will struggle with. The reason is that they have three of the best formations in Madden 24, including Nickel 3-3 Cub OLB Blitz, 4-3 Even Blitz, and the 3-4 Bear Will Sam 1. Each of these formations is consistent and reduces the amount of open field the offense has to make a play. The Vikings and Rams also have these three formations, but the Raiders have better options outside of these, including plays with higher pressure on the quarterback.
If you are still looking for useful defensive playbooks for your team in Madden 24, you can experiment one of these mentioned playbook. We hope that you can win more matches with the help of defensive playbook. And you can also Buy Madden 24 Coins to add best players to your team in order to improve team levels.