Minecraft Enchantment Guide: How to Obtain the Infinity Enchantment in Minecraft
Date: 2023-01-17 08:53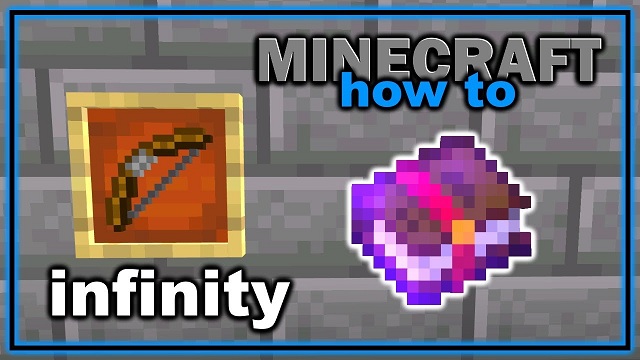 In the world of Minecraft, players need equip weapons to defeat the enemies when they explore the large world for materials. Players who equip a bow and arrow as main weapons worry about the amount of arrows in their inventory. In order to defeat more enemies, they have to gather more arrows in their bags. While, if they get the Infinity Enchantment for their bows, they don't need to care about the arrows at all. So, do you want to know how to get the Infinity Enchantment in Minecraft? You can read this article and learn from the guidance. Players can get Minecraft Minecoins to collect more good materials and craft more items for characters in the game. 
What's the Infinity Enchantment in Minecraft?
Infinity is a fantastic enchantment that you can put on your Minecraft bow, which quite literally results in an infinite supply of arrows. And who wouldn't want an endless stream of unlimited arrows, especially when you consider how time-consuming it is to craft or gather them.
The only catch is that, then you have enchanted your Minecraft bow with the Infinity enchantment, you will still need at least one arrow in your inventory. The arrow will never get consumed as long as you have Infinity equipped, but you will still lose a slot in your inventory.
How to Obtain the Infinity Enchantment in Minecraft
Enchantment Table
Enchantment Tables are the classic go-to method for any enchantment, and Infinity is no exception. To use a level 30 Enchantment Table, you need to have three Lapis Lazuli and an experience level of 30 or more.
Enchantment Tables are, unfortunately, randomized. There is no way to guarantee a certain enchantment will be available. This means that if you want to Enchant the Bow directly (or a Book to apply it), you'll have to place it on the Enchantment Table and hope for the best.
Bookshelves
These are technically decorative blocks, but they also serve another important function. Bookshelves allow Enchanting Tables to apply higher-level buffs to any items of your choosing. The Minecraft Infinity Enchantment is one of these.
Place a bunch of Bookshelves all-around your Enchanting Table, making sure to leave one block of space in between. You should also leave a path open for yourself to walk through. 
Fishing
As with most enchantments in the game, you can fish them up as a book while fishing in any body of water large enough to provide fish. The chances of you pulling up any enchanted book is quite low at a 0.8% chance with a basic fishing rod.
This can be improved by adding the Luck of the Sea Enchantment onto your fishing rod. That enchantment comes in three levels and improves your chances of getting rare loot to 1.2% at rank one, 1.5% at rank two, and 1.9% at tier three.
While those odds are still quite low, many players use this as a method of farming for enchantments since all you need to get them is a fishing rod and you can set up an AFK farming system if you so desire.
Once players have acquired the Infinity Enchantment for their Bow in Minecraft, they can fire as many Arrows as they please with a single Arrow. However, users should remember that their Bow will still deteriorate even though their Arrow supply is limitless. Typically, players could keep their Bow from breaking by Enchanting it with Mending. However, one notable disadvantage of Infinity is that it cannot be combined with Mending since they are mutually exclusive Enchantment.
Players can follow the guidance to get the Infinity Enchantment for their bow in Minecraft. In addition, you can Buy Hypixel Coins to purchase more rare materials for building your house in the game.