New World 3V3 PvP Arenas Update: New PvP Mode, New PvP Currency, New Perks
Date: 2022-05-30 08:41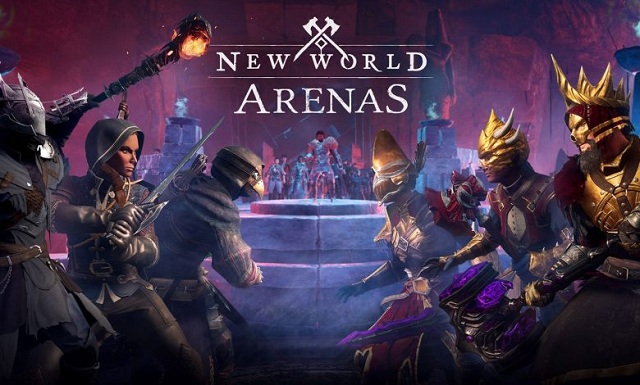 New World has released the big May update for players at the end of May, 2022. There are a lot of new changes in the game, which waiting for players to explore in the new version. If you are interested in the latest May Update, please read this article carefully. You can use New World Gold to prepare essential items for crafting useful potions in advance in order to complete more quests and earn more XP in New World.
New 3v3 PvP Arena system
A substantial addition arriving with New World's monthly update is the new 3v3 PvP Arena system. The new small-scale PvP game mode has teams competing in a "best-of-5" contest with the first team to win three rounds claiming the prize. Arena rounds are two minutes long, and once the timer is up, a ring of fire will begin to envelop the arena forcing participants to engage. Players who have reached level 20 and up may queue for Arenas in the Modes menu, allowing players to participate on-demand from anywhere in the game.
New PvP Currency
PVP is being further supplemented with the addition of a new PVP Rewards Track system. Playing PVP now grants PVP XP and a new kind of currency called Azoth Salt. This PVP XP will progress you on the Rewards Track which has "Checkpoints" at the 2,000, 5,000, and 10,000 XP milestones. When you hit a Checkpoint, you can use your Azoth Salt to buy one of three random rewards. These rewards will be appropriate to your character level, and the rewards get better as you increase your PVP Rank.
New Perks
The PVP rewards track works by earning PVP XP simply by participating in PvP content. If you flag for PVP and gain regular XP, you'll also earn bonus Azoth salt. Earn yourself enough PvP XP and salt and walk away with rank level increases and rewards. As players climb the rewards track they will unlock additional rewards like gear, weapons, emotes, and items. As the players progress, the rewards will get better and better. While players can purchase a maximum of 3 rewards every milestone, if players opt for less than 3, they will receive a small salt boost for the next track. As players climb the PvP Rank, they can earn in-game achievements, titles, and exclusive rewards.
New Expedition Mutator
The Depths is now part of the weekly Expedition Mutator rotation. In addition, 3 new mutation types have been added to the pool–Overgrown, Barbaric, and Fiendish–this now makes a total of 27 new combinations. Overgrown focuses on Nature Damage and Resistance, Barbaric focuses on Physical Damage and will add Berserk and Shattering, Fiendish will create curses that focus on the nocturnal. In addition, Fiendish also features Blood Offering which stacks damage over time.
The update is extensive, and there are a series of combat balance changes, weapon changes, bug fixes,and adjustments to shore up both Outpost Rush and War. We also get details on the PVP-only Perks introduced in this update. These go along with the PVP rewards track and include things like Purifying Crits where critical hits remove a buff from an enemy player, or Penetrating Backstab, which penetrates 10% of enemy armor.
So, there are some important things in the new May Update of New World. If you want to have good performance in the 3v3 PvP Arena, you can Buy New World Coins to collect good gear for characters to improve the overall abilities. And you can win more matches in the Arena.