New World Brimstone Sands Update: Everything You Should Know in New Brimstone Sands Area
Date: 2022-10-19 08:50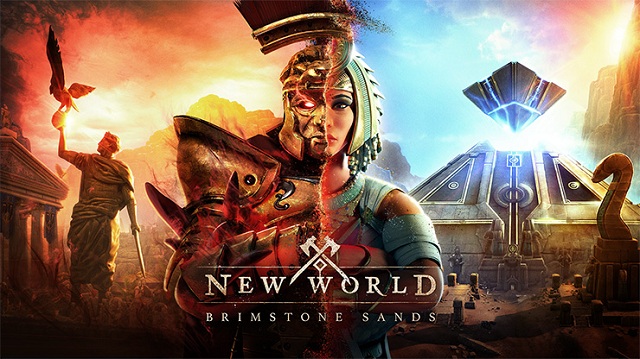 Players who are fond of playing New World are excited about the new update of New World. There will be a new area called Brimstone Sands introduced into the world in the game. Meanwhile, a lot of changes and new features are waiting for players to explore in New World. If you are interested in the new update of New World, you can read this article and know more things in detail. Players can use New World Gold to unlock more good weapons or gear for characters in order to improve the chances of survival in the fierce dungeon quests.
New World Brimstone Sands Area Update
The already mentioned new area, "Brimstone Sands," not only brings a lot of sand in the form of a desert. You can also explore pyramids and a Roman-style city with a Colosseum and temples. A stark contrast to the current walkable landscape of Aeternum, which consists mainly of coastal regions, forests, and swamps. Of course, there are also many new enemies in the new area, such as scorpions, mummies, and enemies reminiscent of trolls.
In addition to the new area, you get a wholly revamped leveling experience. The areas, quest lines, and enemy variety between levels 1 and 25 have been completely reworked and optimized. So there should be fewer useless walking distances and a better gaming experience.
New Weapon: The Greatsword
To help you power through all that nastiness, you can use the new Greatsword weapon. This uses both strength and dexterity, meaning it should fit snugly into builds featuring other martial weapons available. The weapon has both an offensive and defensive tree, allowing for both tanking and DPS capabilities.
Changes About Runeglass Gems and Heartrune Skills
Runeglass Gems allow you to craft Gems that have fixed secondary effects based on the components used. These effects provide offensive bonuses like damage, lifesteal, Elemental DoT, Stamina Recovery, and Mana Recovery effects.
Heartrunes are a new gear slot that players will unlock during the Brimstone Sands Questline. These are powerful runes that provide players with various "Ultimate" skills that can be used with weapon skills. These skills provide damage and offer additional utility.
Cannon Blast: summons a Cannon to fire a long-range shot that deals 100% of Rune Damage;
Detonate: charge yourself with explosive energy for 3 seconds and then detonate, dealing 100% Rune Damage to enemies around  5 meters;
Heretics Fall: fly up into the Air then fall back down to the ground, staggering and dealing 100% rune damage to enemies within 3 meters. Press the button again while in the air to slam to the ground;
Stone Form: harden yourself with layers of stone, remove all CC and grant yourself an immunity to both stagger and CC for 5 seconds;
Grasping Vines: summon vines around you that deal 100% rune damage and root enemies within 4 meters for 3 seconds.
Solution to Queue in New Update of New World
Amazon is also prepared with what it is calling queue mitigation methods. All of the regions will actually have more servers available on standby in case the demand outpaces expectations. But as queues start to form, the team may temporarily lock character creation and transfers, as previously stated when revealing the heatmap. If maximum capacity is approaching and sustained, they may turn to opening those standby servers.
If you are going to experience the latest update of New World, you can read this article in advance, which helps you familiar with the changes of Brimstone Sands. Meanwhile, you can Buy New World Coins to search for good materials for upgrading your characters quickly in this new area and try to explore more quests in New World.