New World: Latest News about Seasonal Model, Battle Pass and Event in New World Update
Date: 2023-02-24 08:27
Amazon game New World has been released for a long time, more and more players are bored with the existed mechanics and modes. They want to experience new features in the game. The latest news is that the developers are going to introduce different things for New World, which plans to attract more new players and join in the adventure. Are you interested in the coming new features in New World? You can read the article and know about them in advance. Players can get New World Gold to purchase rare materials from the market and craft useful items for character in the game. 
New World is shifting to a seasonal model in the March Update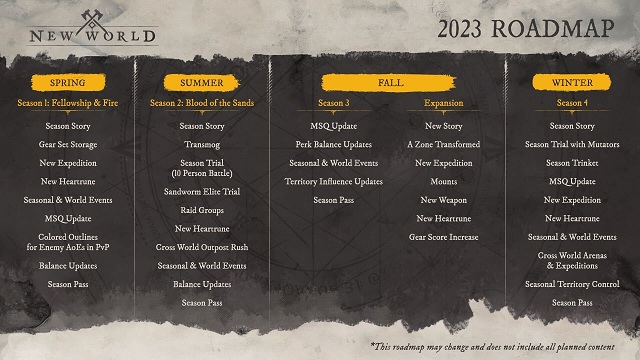 New World, Amazon's MMORPG will be shifting to a seasonal model going forward, complete with a free and premium battle pass.
The game's first season, titled Fellowship & Fire, will launch on March 28, and will introduce new story quests, a new expedition (New World's version of dungeons), a new heartrune ability, a revamp of the main story in the Brightwood and Weaver's Fen zones, and gear set storage.
Each season will last approximately three months, with Amazon releasing a roadmap of what future seasons later this year will encompass. Season 2 is planned to include much-requested features like gear transmog, raid groups, and cross-server Outpost Rush. The game's first expansion is slated to release this fall alongside Season 3, and will add another highly requested feature--mounts. It will also see one of the game's existing zones "transformed" and will include a new weapon alongside additional story content and a new expedition.
New World Season Pass Information in March Update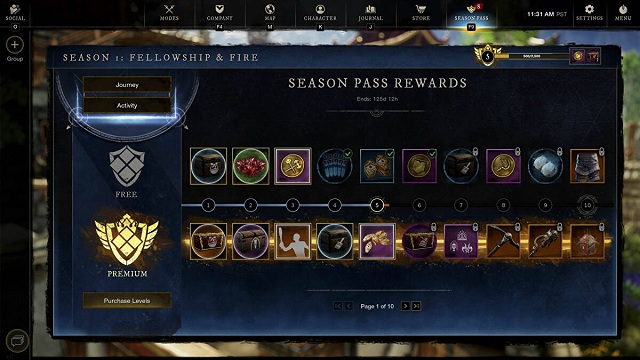 The Season Pass will work more like a Battle Pass from the likes of Fortnite or Call of Duty: Warzone, in which players will gain levels and rewards by completing certain tasks in-game. Players can stay on the free track if they like, but upgrading to the premium version will grant more rewards per level including cosmetics, Marks of Fortune, Boost Tokens, and more.
This premium track can be purchased using New World's in-game credit and will cost 20,000 Marks of Fortune, with $19.99 getting players 23,000 Marks of Fortune in the shop. Amazon made clear that all of the premium track content can be earned through normal gameplay except for the cosmetics, meaning this won't be a pay-to-win feature.
The Legacy of Crassus Event Update in New World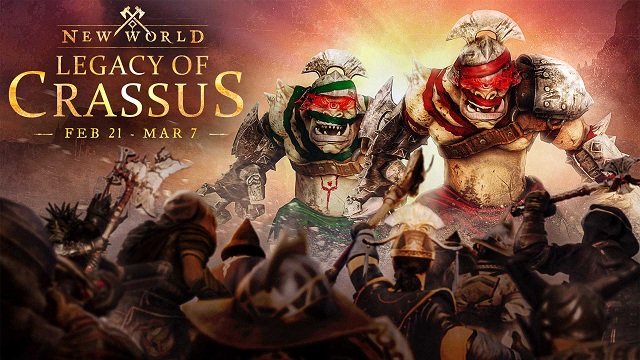 Two of General Crassus' most loyal captains are invading Aeternum, and trying to make their old leader's dream come true. This is where it gets both a little bit ugly and potentially very lucrative.
These two captains, each transformed into a giant cyclops, are going to spawn as level 66 enemies regularly throughout the day. If you take the two of them on and win, dealing at least 1,000 damage, you'll get rewarded. The team has arranged a special system this time around. Your first victory of the day will get you one random Legendary set piece, guaranteed. Keep coming back every day and get a different piece. The team has made it so that you will not get any duplicates, making it easier to collect a full set over the next two weeks. You will still get appropriate rewards for taking on this boss battle more than once a day, but those rewards will be different.
After knowing the coming update of New World, some players are looking forward to playing the latest version of New World as soon as possible. Now, you can join in the Legacy of Crassus event and farm more good rewards in quests. And you can also Buy New World Coins to upgrade your weapons fast and improve the ability of your character.