Starfield Ship Guide: How to Unlock Best Ships in Starfield
Date: 2023-09-06 08:42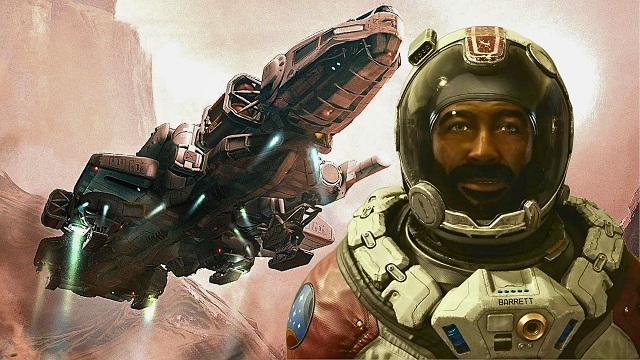 As many players have started their journey in Starfield, they are going to explore more different kinds of planets in the cosmic. Ships play an important role in the world of Starfield, which help you move fast between planets and defend against interstellar dangers. Do you want to know how to unlock the best ships in Starfield? You can read this article and learn from the guidance. Players can get Cheap Starfield Accounts to join in this fantastic game in your spare time. 
Best Ships to Unlock in Starfield
Stronghold
The Stronghold is likely the best ship in Starfield for the sheer value behind its defensive abilities, starting with an impressive 1600 Shield stat. The 6 Crew size, 2360 Cargo Capacity, and 30 LY jump range are all among the greatest of any starship in the galaxy. Enemies will not only have a hard time keeping up with this ship, but they will struggle to even make a dent into its 1047 Hull if they make it past the Shields.
The weapons on the Stronghold may not be as extensive as the Abyss Trekker, but it may be better to have more chances to fight back instead of just the most potent weapons. The best ships to unlock in Starfield excel in every quality, a fact that the Stronghold can prove over and over again.
How to Get - Purchase at Akila City for 400,125 Credits
Renegade III
The Renegade III is a Class C ship that is sold in Neon. Considering it is a Class C ship, this shows you that it is made to be bulkier and tankier than any other ship type on the market. This costs close to 450,000 Credits.
What this ship lacks in not having a third weapon it makes up for in the sheer amount of cargo space that it holds. It has one of the highest amounts of cargo space available on a spaceship with 4,367. This means that it can truly help you build Outposts and create the perfect universe.
War Horse
The best spaceship available to you relatively early in the game is the War Horse. This is another spaceship that can be found in Neon. All you need to do is head over to the Ship Services building and speak to a technician. He will allow you to purchase this for roughly 105,000 Credits, one of the most expensive amounts on this list.
This is a very solid spaceship for anyone. While it is built for mobility, you could still enhance your weapons. Additionally, it offers 200 Fuel, meaning you should be able to make it anywhere you need. Finally, it has a great amount of cargo, making it perfect for storing all those items you have. Overall, this is the one you'd want if you can afford it.
Kepler R
The Kepler R is another ship that you do not need to pay for, rather you must make some specific decisions during the story. Without spoiling too much, you need to complete the 11th mission of the main quest, called High Price to Pay.
This unlocks the Overdesigned sidequest. This sidequest rewards one of two ships, the Kepler R being the much better option of the two. To get it, you must request a higher budget for the ship and pass a persuasion check, then motivate the other members of Constellation in order to get this ship.
It is an excellent C-class ship with a massive cargo hold and plenty of fuel to get around with.
Frontier
The Frontier is the first of the Starfield ships you get in the game. It is ranked as the best here because, without it, it is impossible to advance to more powerful models and understand the mechanics of the game. Its metrics are low but balanced, which allows you to customize it for any purpose.
To get the Frontier, you need to finish the title's prologue.
If you are still looking for the best ships in Starfield, you can consider these mentioned ships in the game. Equipping the best ships will help you explore more planets quickly. Players can Buy Starfield Accounts to join in the large cosmic exploration.