WoW Classic WotLK Gold Farming Guide: How to Farm Gold Fast in WoW WotLK
Date: 2022-08-08 08:45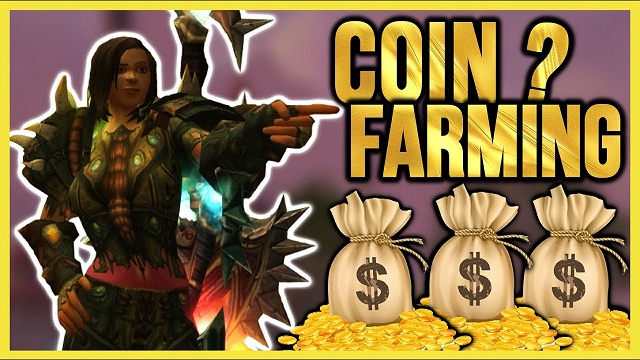 Players who like playing WoW Classic Series are all excited about the new introducing of Wrath of the Lich King expansion. There will be a lot new features in the latest expansion of World of Warcraft. And when it comes to Gold Farming in WoW WotLK, many players have know the importance of gold in the game. The way to get enough gold is not easy in this game. So, they want to know how to farm more gold in WotLK. Please read this article and find the guidance. Players can also buy WotLK Classic Gold to select their desired weapons for characters in the game.
Gold wasn't that easy to come by back in the vanilla version. Earning Gold for your first mount at level 40 was an accomplishment for the majority of players. When the game goes live and you decide to start your adventure, you will notice that every piece of equipment, crafting material and such is extremely expensive. That's always a thing when a new server or game is launched, as demand far exceeds the supply. You will also notice that quests give significantly less Gold compared to now, which makes it a necessity to play efficiently, and know goods spots for farming Gold and leveling.
Several Fast Ways To Farm Gold in WoW Classic WotLK 
Gathering More Materials For Sale
The first way for Classic WoW gold farming is to gather and sell as your level. From 1-60, you can only choose gathering professions. Usually, this will be herbing and skinning, or herbing and mining, but enchanting is also important. Don't collect the items for yourself but sell them to others in traditional crafts.
If you plan to activate and level multiple characters at once (this is a good way to make the most of your rest experience), then making the second character an enchant can bring you lots of WoW Classic gold. This must be the character you intend to upgrade, because your enchanting skills must also be improved to disenchant higher level items. Relatively speaking, enchanting materials may be more profitable than the green and blue gears.
Picking a Right Profession At First
Professions will amount to a very large portion of your Gold income if you pick the right ones.  Here is a new version: Gathering Professions are generally better on new servers. For example, Skinning provides you with some extra money for every single Beast that you slay in the world, even if you just vendor the gathered Leather, especially if you are leveling quickly, as Crafting professions require a lot of Time and Gold investment to level up. But they get much better when you are leveling slowly and during the End-Game, because then the ability to craft some gear starts to outvalue the ability to make a quick profit.
Crafting Items for Sale to Get Gold
To start your gold making way in crafting you better have at least 10-20 gold ready to spend as start-up capital. For a while, around 150 skill points into crafting professions, you will lose money – items are not worth much or demand is not enough to make good cash. Higher level crafts, on the other hand, are the main source of income. There is money to be made – craft armor, potions, bags, shirts.
Tip for crafting professions – in need of supplies try to establish contacts with a constant supplier, just as we suggested for gatherers to find constant buyers. It is a very important part of a reliable income. It is also very attractive to the crafters as they can normally negotiate for materials to be cheaper than AH and so they have a constant supply to make their items. The downside of crafting gold making is that at level 60 many crafted items will become obsolete.
Players should know the way to farm gold in WoW Classic WotLK, because a lot of strong equipment cost a large amount of gold in the game. Or you can Buy WoW Classic WotLK Gold to purchase the right gear for your characters in order to improve their capacities in battle.